Grace's Pick
Styled by Grace Louden
why i picked this outfit
Feeling a little blue? Well, this combo always brightens the day. The new Blue Oasis stripe pulls in the cool waters from the Caribbean with the perfect pairing of the Stock Island shorts and, should a touch of chill hit the air, layer with the Early Morning Beach vest. For me, soft blues on a shirt bookended by a light short and dark layer absolutely "brings it" with a laid-back style.
the vest
Embrace the easterly trade winds in our Early Morning Beach Vest. A sturdy, water resistant, and comfortably warm layer, with the convenience of multiple pockets and easy on/easy off style for cooler temperatures.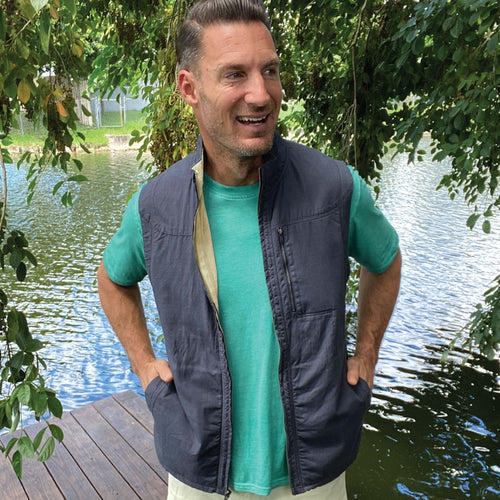 the shirt
Casual and simply designed, the Ernest Linen button down shirt echoes the novelist's economical style. Combine your outward adventurousness with the underlying sophistication of this classic, long-sleeve look in Irish linen. the shorts
Stock Island is well known for its thriving art community, marinas, boat yards, and dining. Stroll through each in style in our classically designed Stock Island Oxford Shorts. Whatever the day brings your way, be ready with your new go-to for sport or dress occasions.