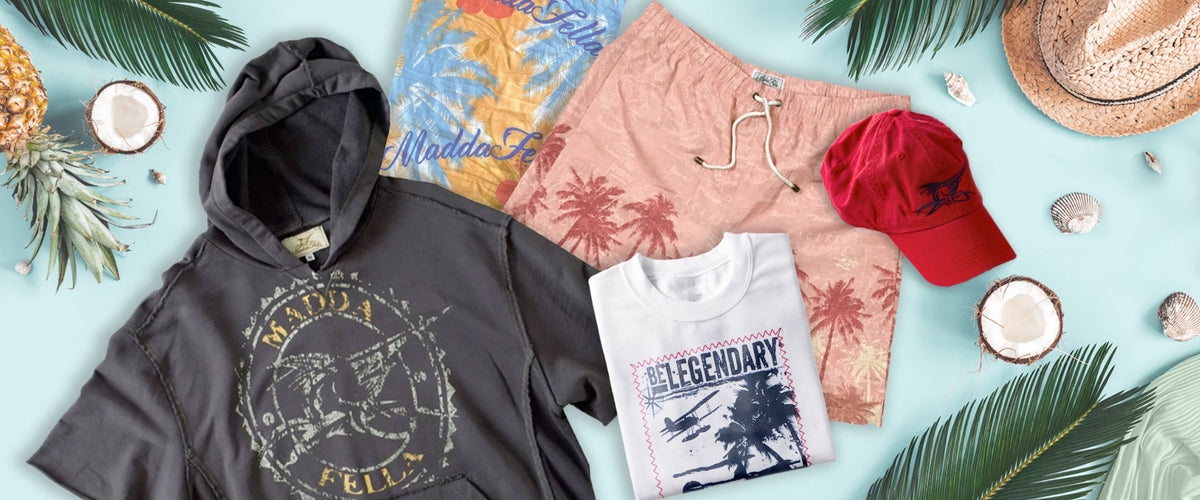 Mike's Pick
Styled by Madda Fella
why i love this look
Best days are kicking back and enjoying the beach or the water (or porch or backyard…) with just a stitch of crispness in the air and low humidity.
The Old Salt is my go-to whenever I just need an easy, ok to "muss-it-up" hoodie/sweater. Plenty of room. With open sleeves and v-cut at the neck, there is plenty of air flow to keep the body temp just right.
Suntek's with the patch designs are unique, with the "Be Legendary" patch a bit inspirational. I use our light-weight CoolNet Buffs as both a handy, quick mask and to protect from the sun if it's "one of those" type days. Plus, I'll have my own buff if I make it to Survivor. ;-)
Sandbar swim trunks are just plain easy, comfortable and work in a tropical setting or just lounging around the pool. The red Sportsman Cap makes it easy for friends to spot me. (yep…it avoids the texts… "hey, where are you"). Kinda like finding a socially distanced "Waldo".
the trunks
On shore, on the water, or at the pool, our Sandbar Trunks will give you the ultimate in lightweight, quick-drying style. Offered in a variety of prints and two different inseam lengths, you are sure to find a suit to fit your preference.
the tee
Our Suntek tees combine light weight material, UPF 50 sun protection, and a fast-drying fabric that is essential for all of your summertime activities. Pick up two: one for mowing the lawn on Saturday and one for that fishing trip on Sunday.
the buff
Protect, and style yourself up! Our custom Madda Fella Buffs are versatile, fun and built on the best sun protection technology available. We've teamed up with BuffUSA to create this new series of Madda Fella headwear leveraging CoolNet UV+ protection. Hey, make a statement and grab one. Can be worn 12 different ways - from cap to balaclava, neck gaiter to hair tie - for optimal performance and protection, personalized style, and a perfect fit. 
the hoodie
This is your "rough and ready" hoodie. Well, actually it is just way more comfortable, has that salty, lived-in look and will absolutely get tossed around.
the hat
Our signature cap features our fierce swordfish embroidery logo on the front and Madda Fella cursive logo on back. Made of 100% cotton chino twill and vintage washed for a faded appearance. Featuring a pre-curved bill and self-fabric strap with antique brass slide buckle closure and tuck-in grommet.