Best Halloween Cocktails
Adults love Halloween just as much as our children do. Every year there are fantastic Halloween gatherings for kids and/or adults, with costume contests that bring out the best in our creativity. If you are hosting the adult party this year, you may be trying to find that perfect ghoulish drink to serve. Well, look no further. Here are five cocktails recipes that a pretty simple to make, varying from delightful and fruity, to the diabolically deadly. Don't worry, there are no tricks in these delicious cocktails, and no REAL blood is found in any of them.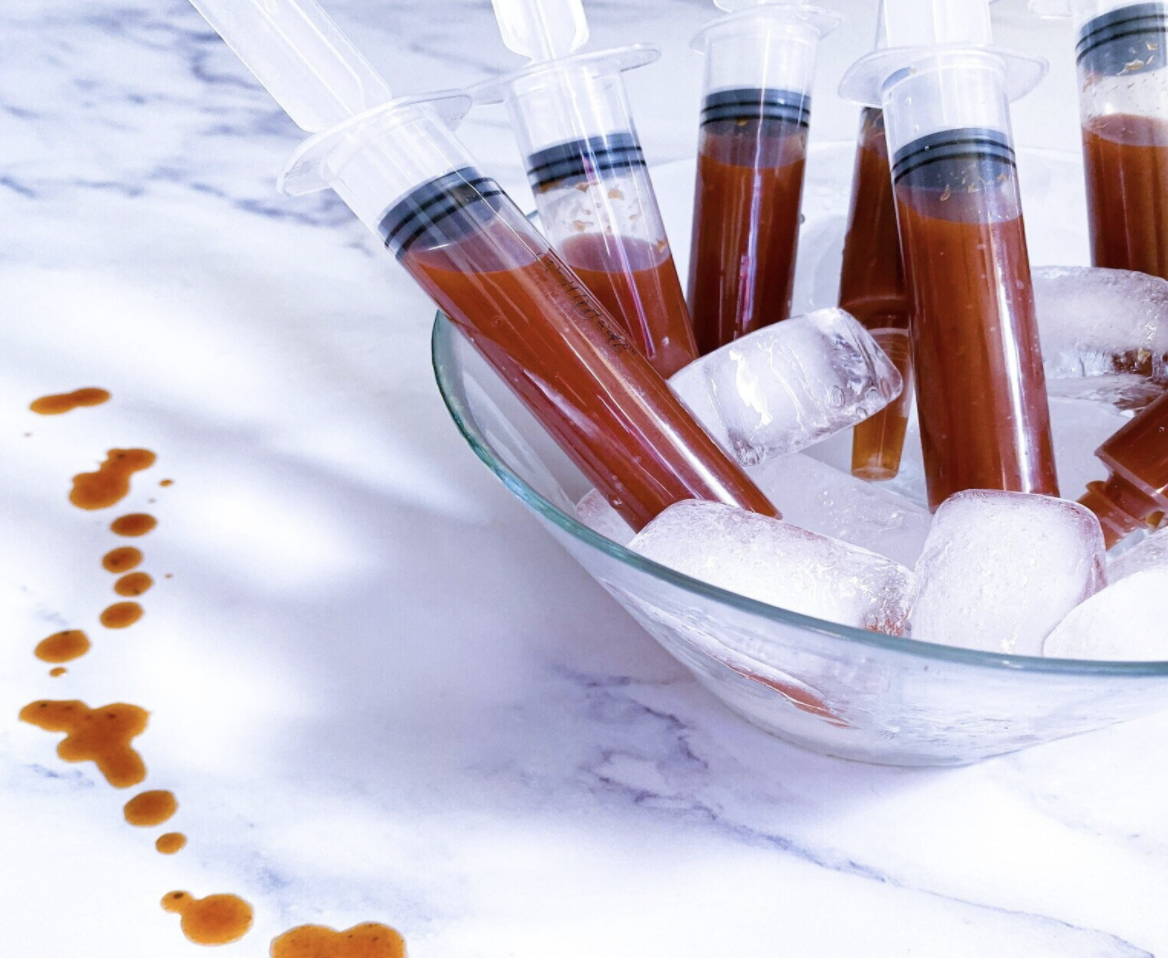 Let's start off with these Spooky but Simple Bloody Mary Halloween Shots that are so easy and so good, it's scary. 
INGREDIENTS 
A quart of your favorite Bloody Mary mix, homemade or bottled (should be around 32 ounces)

 

2 cups (16oz) of vodka

 
DIRECTIONS 
Pour Bloody Mary Mix into a bowl or shaker

 
Add the vodka to the mix

 
Shake well

 
Fill each 2 oz syringe with the Bloody Mary elixir. Or have a syringe for each person and they can pull the stopper back for their own shot.

 
NOTES: 
Add or subtract as much Bloody Mary mix to make as many or little as you choose. Syringes come in all shapes and sizes so yields may vary. Halloween syringe shots, you can find them at Party City or Amazon. 
The next two recipes come from New York's Famous Jekyll and Hyde Club. This club is the only haunted restaurant and bar in New York City, so you know they will scare up an awesome drink.
Sweet Poison Cocktail – serves 2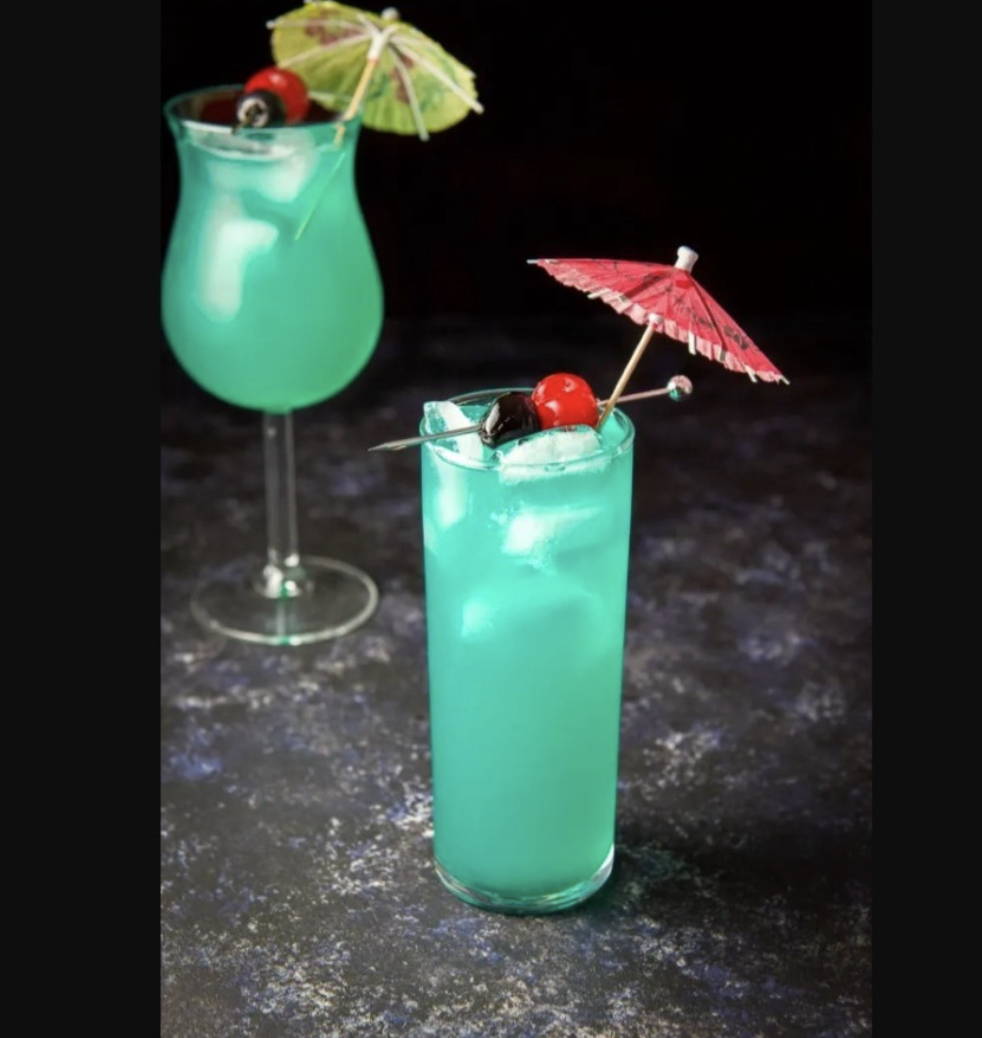 Ingredients 
4 ounces coconut rum

 

2 ounces gold (dark) dark

 

2 ounces Blue Curacao

 
4 ounces pineapple juice

 

Optional (cherries)

 
Directions 
In a cocktail shaker fill halfway with ice

 

Combine the rums and Blue Curacao

 
Shake the rums and Blue Curacao

 

Pour equal amounts into two glasses half-filled with ice

 

Top off with the desired amount of pineapple juice and stir

 

Garnish with a cherry

 
Risen from the Grave Cocktail – Serves 1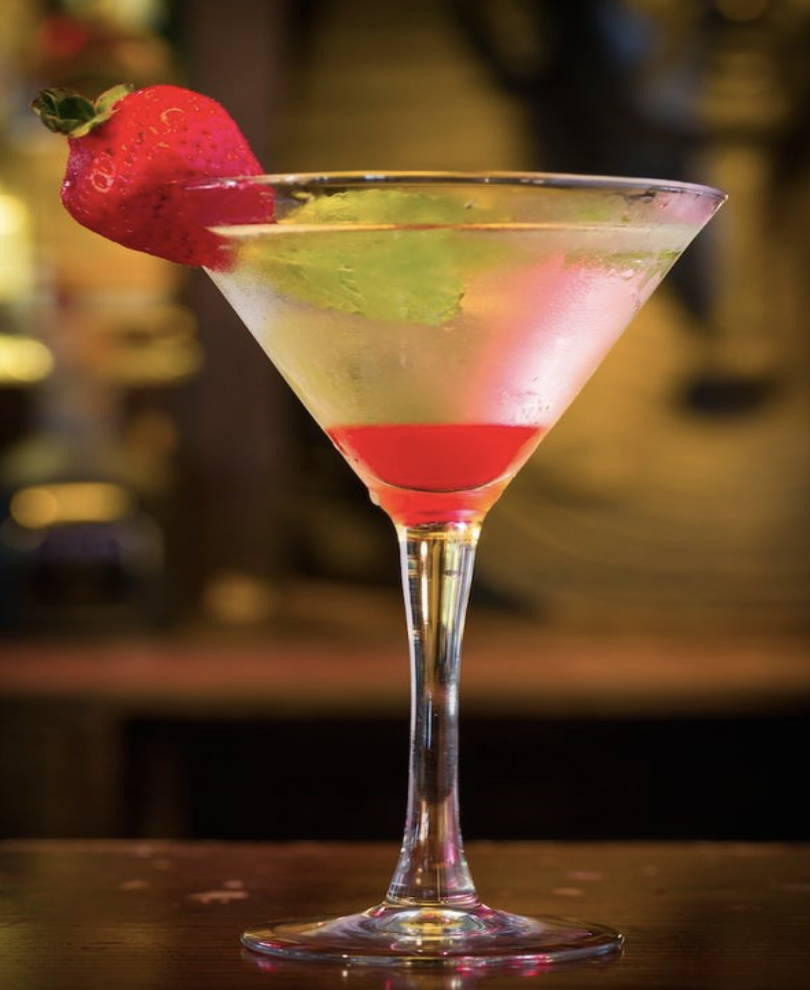 Ingredients 
 3 oz. Absolut Citron vodka

 

 2 oz. St. Germain

 
 1 handful ice

 

 1/4 oz. strawberry puree

 

 Strawberry and mint leaf (for garnish)

 
Directions 
Combine the vodka and St. Germain in a cocktail shaker filled with ice. Shake.

 
Pour strawberry puree into the bottom of a martini glass.

 

Top with the vodka-St. Germain combination.

 

(Optional) Garnish drink with a strawberry and a mint leaf.

 
The creator of the following drink has been originally credited to Neil Patrick Harris. If you asked, isn't he the original Doogie Howser? You would be correct. Pardon the pun, but I guess you could say, this is just what the doctor ordered!!!! (Ugh...sorry about that).  
BLACK MAGIC MARGARITAS - SERVES 2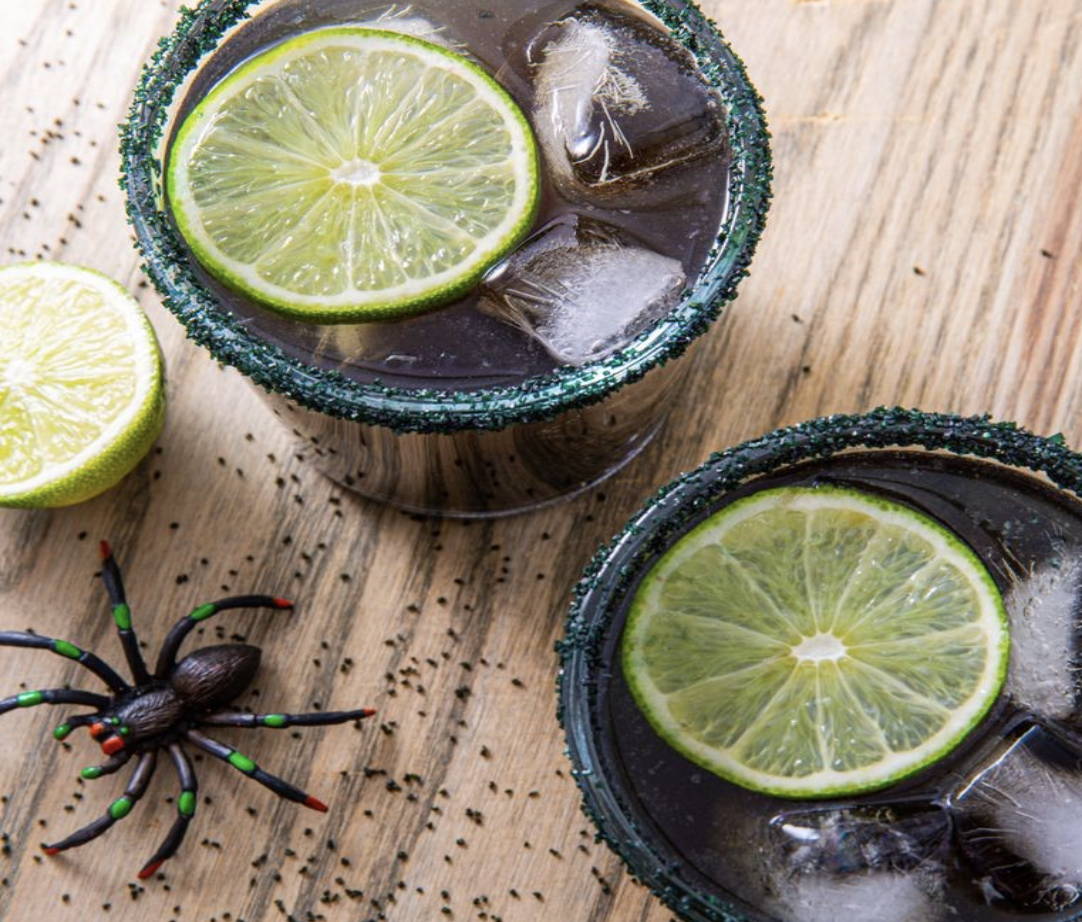 INGREDIENTS  
2 tbsp. black sanding sugar (can be found at Michael's, JoAnn's or Amazon) 
2 c. ice 
4 oz. silver tequila 
2 oz. triple sec 
1/2 cup lime juice 
Red food coloring 
Blue food coloring 
Green food coloring 
Lime slices, for garnish 
DIRECTIONS 
- Rim two glasses with a lime slice and dip in black sanding sugar. 
- In a cocktail shaker, combine tequila, triple sec, and lime juice  
- Add food coloring 3 drops of each into the cocktail shaker. 
- Shake until desired black color is achieved.  
- Pour equal amounts into two glasses half-filled with ice 
- Garnish with a slice of lime before serving. 
NOTES: There is the potential that your lips may turn a little black a well, but doesn't that just add to the Halloween aura. 
Our final Halloween Party Cocktail is truly a devastating drink. You may want to ensure that everyone is either sleeping over, can walk home, have someone to drive everyone home, or have a connection at Uber, or Lyft, when serving this dastardly concoction.  
What do you call a drink that has four types of rum, including the devastatingly terrifying 151 proof rum? THE ZOMBIE!!!!! 
First A Little History on the ZOMBIE!!!!! 
The Zombie was one of the very first tiki drinks to make it big. Back in Hollywood in the 1930s, a guy named Don the Beachcomber opened a bar where he served tropical drinks loaded with rum. The Zombie was one of them, and it caught on, especially at the Hurricane Bar at the 1939 New York World's Fair. This recipe is not the original but VERY close to it. In any case, have one, MAYBE two, then stop. Any more and your liver may become incredibly angry with you. It is also highly recommended that you have your best hangover cure close at hand for the next day after consuming a few of these.  
THE ZOMBIE – Serves 1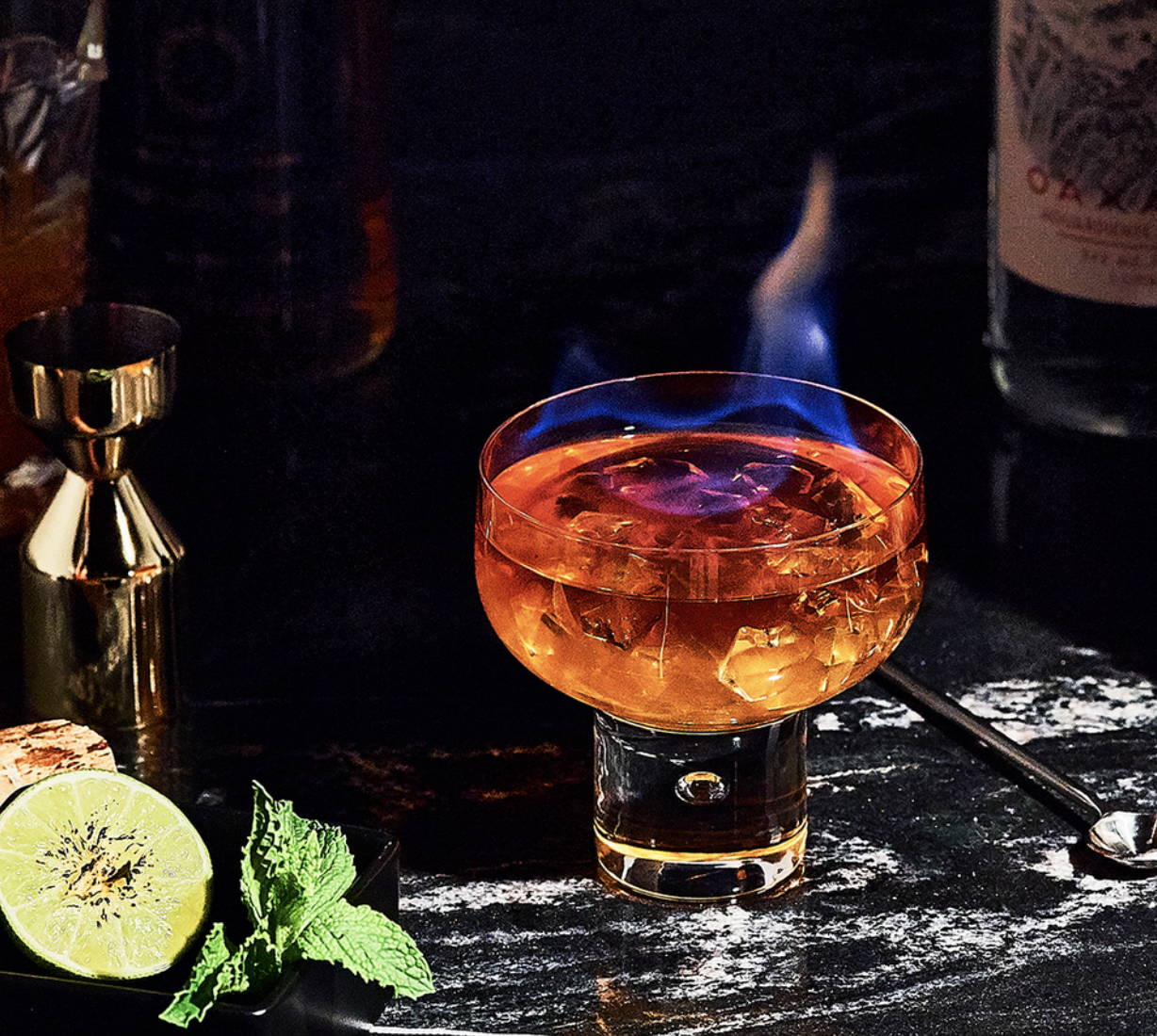 Ingredients 
1/2 oz. white rum 
1 1/2 oz. golden rum 
1 oz. dark rum 
1/2 oz. 151-proof rum 
1 oz. lime juice 
1 tsp. pineapple juice 
1 tsp. papaya juice 
1 tsp. superfine sugar 
Ice 
Directions 
- Combine all the ingredients except the 151 rum. 
- Pour the mixture into a 14-ounce glass three-fourths full of cracked ice. 
- Float the 151 as a lid by pouring it into a spoon and gently dipping it under the surface of the drink.*  
- Garnish with mint (either straight or dipped in lime juice and then superfine sugar) and/or fruit. 
*If you want to enhance the effect of this 'Spooky Spirit', you can take a match to this ghostly drink and watch it burn. 
Have a Happy Halloween – Be Safe – Be Smart - Cheers 
---