Off The Grid Dominica Vacation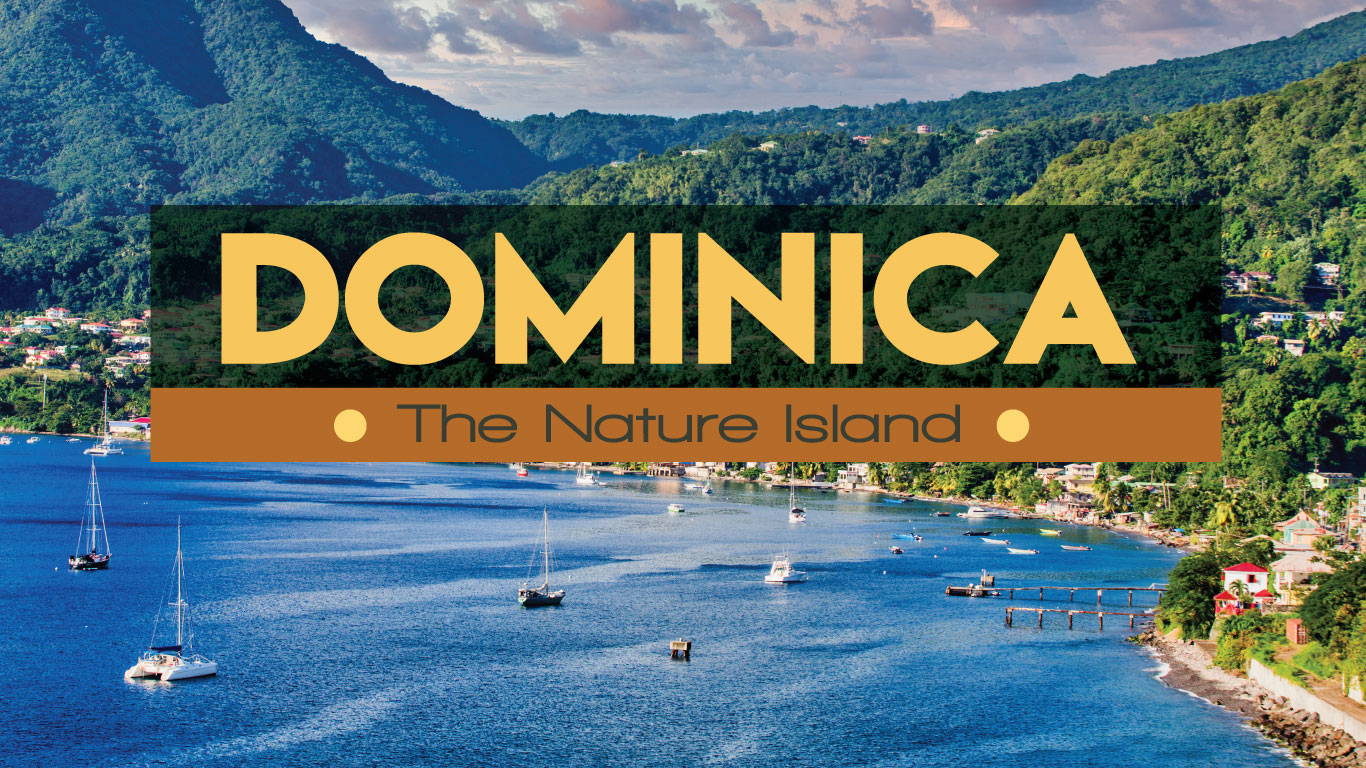 The perfect setting to get off of the grid. Known as the "nature island", and potentially the best kept secret of the Caribbean. Dominica offers up a unique experience that you won't find anywhere else.
If you've considered heading to the South Pacific, say Fiji or Bali, but thought "whoa" that's halfway around the world. Here's the better option.
One of the least known of the Caribbean islands, but interestingly enough, the most tropical.
The main language is English. However, there's a bit of spice to the local language. Quite a few Dominicans speak Creole. In some parts of the island, you'll hear a hybrid English/Creole with some local dialect thrown in.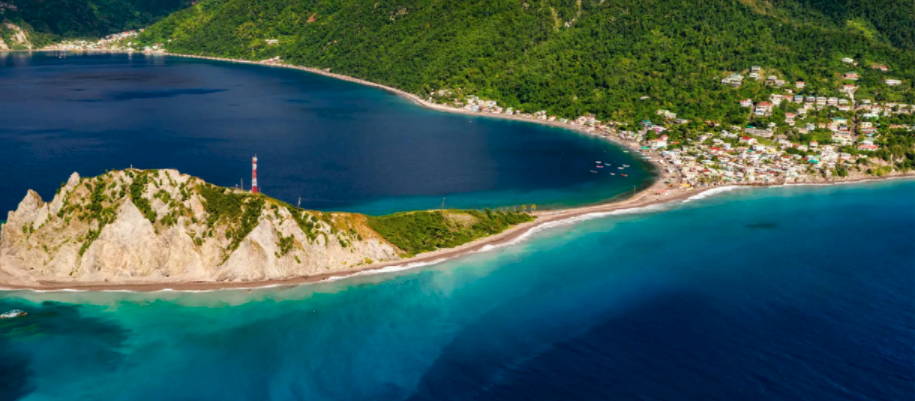 This adventure isn't just getting off the grid, it's getting off the grid and going deep into, arguably, the most beautiful and botanically diverse island in the Caribbean.
It's a stitch smaller than New York City. Dominica: 290 sq mi, NYC: 300 sq sm. About 45 minutes can get you from the North side to the South side of the island.
If you are just coming off of our bar-boating adventure in the BVI, then this is a good stop. A little more physical, maybe put a small burn on those muscles, knock some Covid lbs off.
With over a dozen waterfalls and a network of rivers, in fact there is either a river, stream or waterfall for every day of the year, the island is gorgeous. Many scenes from the "Pirates of the Caribbean" movie series were filmed at numerous locations on Dominica. Pirates have long been part of Dominica's lure, with unaccounted for treasures still hidden deep within the island.
If you're going to do this, the best "mindset" going in is that you'll be hiking, dancing in waterfalls, exploring, enjoying smaller beaches but this escape isn't about "finding your beach". Maybe more about finding your personal "Jumanji", without people & animals chasing you.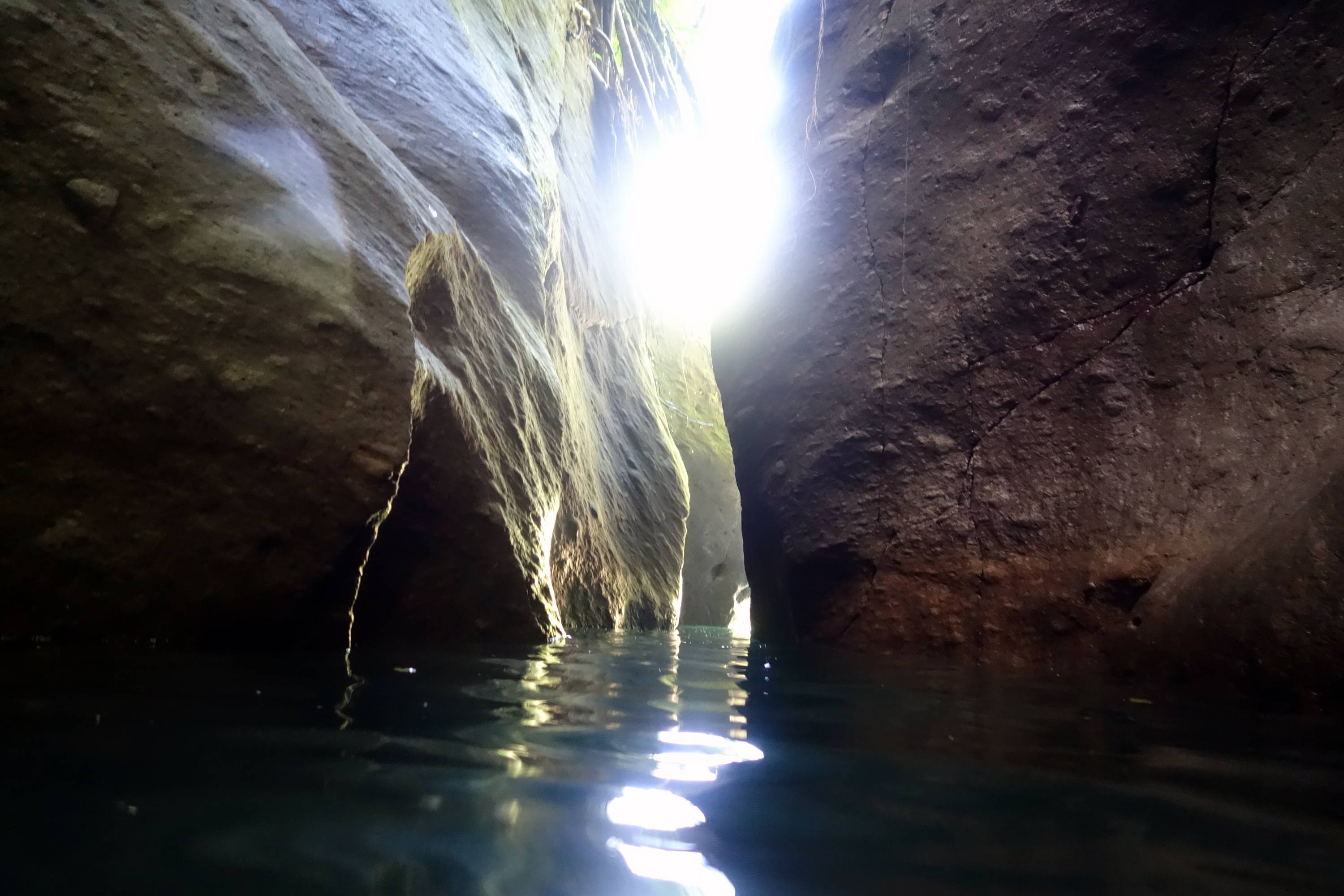 Remember, we're getting you off the grid…but you're going to be active. Grab a few pairs of our All-Terrains, good walking/hiking shoes/boots, some tees and UPF's, and you're mostly set.
This island has a lot of "local flavor", people are very "down home" and honest, as well as proud of their island and heritage. Always be smart and safe, but Dominica is one of the safest islands in the Caribbean.
Here's what you need to know.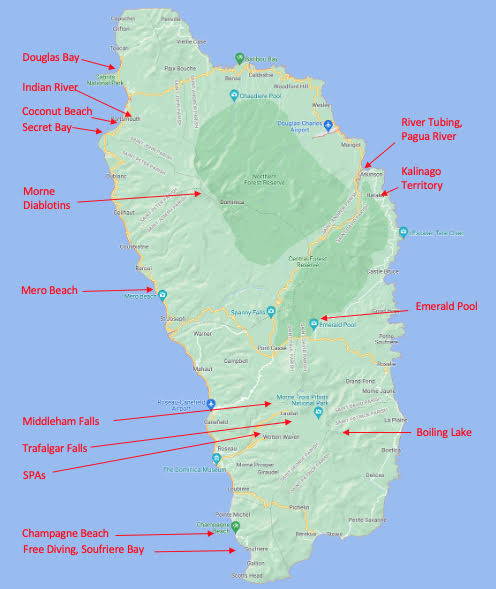 Get yourself staged in a decent setting with a game plan. "Winging it" is ok, but not your best bet.
There is simply so much to do, waiting until arrival to figure it out might be problematic and frustrating. Not suggesting over-planning, but frame up what you want to do and experience. It may also be worthwhile to set-up a few guides ahead of time.
Across the globe, I have experienced and enjoyed going local in various surroundings. I've also known when it's better to book "higher" up the hotel "food chain" … just "because".
In this environment, it will be a better experience to focus on hotel properties that have more services and support, such as concierges, hosted activities, quality restaurants & bar, great view, spa, laundry services, etc.
Frequently guides have "tie-ins" with hotels and resorts on the island. Your best bet is to use the hotels concierge services to arrange the guide(s). The hotels usually pick up a commission from the guide, but that's just fine. Keeps the customer service high. Slip the concierge a few bucks also…those things tend to go a long way with people "looking out for you".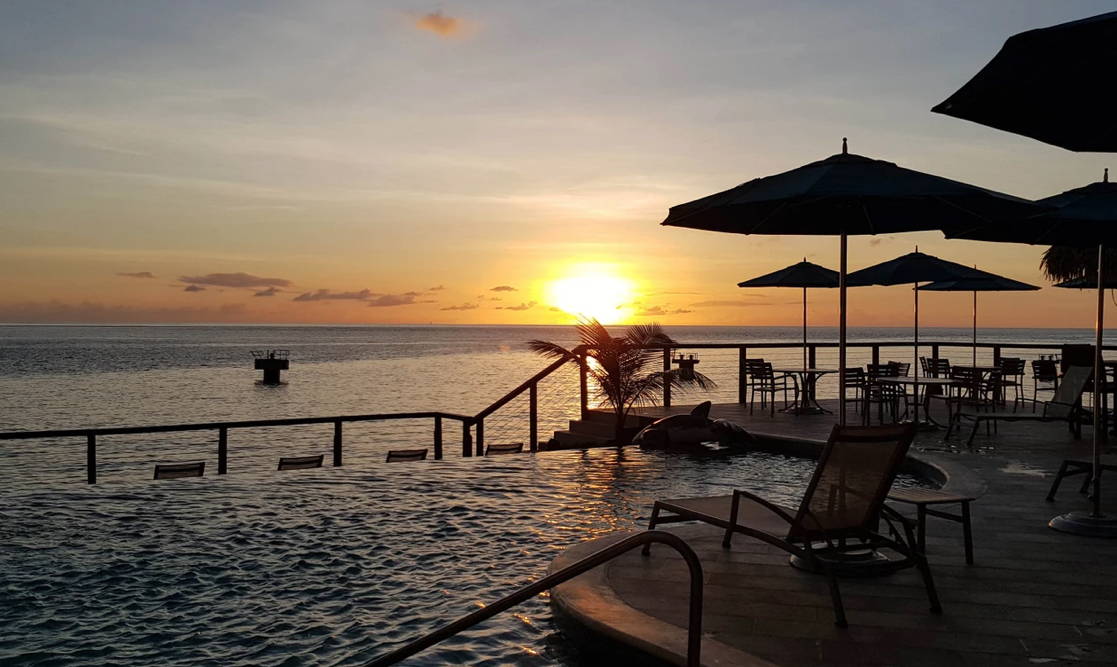 To that extent, two top shelf places are Secret Bay, at Secret Bay just below Portsmouth and Cabrits, at Douglas Bay, just above Portsmouth. Both are western facing and access to calm Caribbean waters, plus comprehensive amenities. There are a number of fine establishments throughout Dominica, and in no way does this suggest otherwise. These two are a bit more comprehensive.
A stitch of background, just to give this trip some context.
Kalinagos, Caribs and The Kalinago Territory
The Caribs were the indigenous peoples, mostly on the islands in the Lesser Antilles. As European settlements took hold throughout the Caribbean and Central America, the powerful Carib Tribes were exiled to smaller islands or slowly lost the battles against the more powerful and modern armies & navies of the 1700's.
The dense, mountainous, tropical environment of Dominica made it difficult to be conquered. So much so that the French and British mostly maintained St. Vincent and Dominica as "neutral" islands. However, those treaties were violated. The inhabitants of St. Vincent were moved to Ruatan Island or Belize. The Caribs on Dominica were allowed to stay, but moved to 3,700 acre reserve on the remote, northeast part of the island.
The Kalinagos, one of the Carib Tribes, have remained on the island. About 3,500 Kalinago people live in the territory. It is the largest settlement of indigenous peoples in the Caribbean.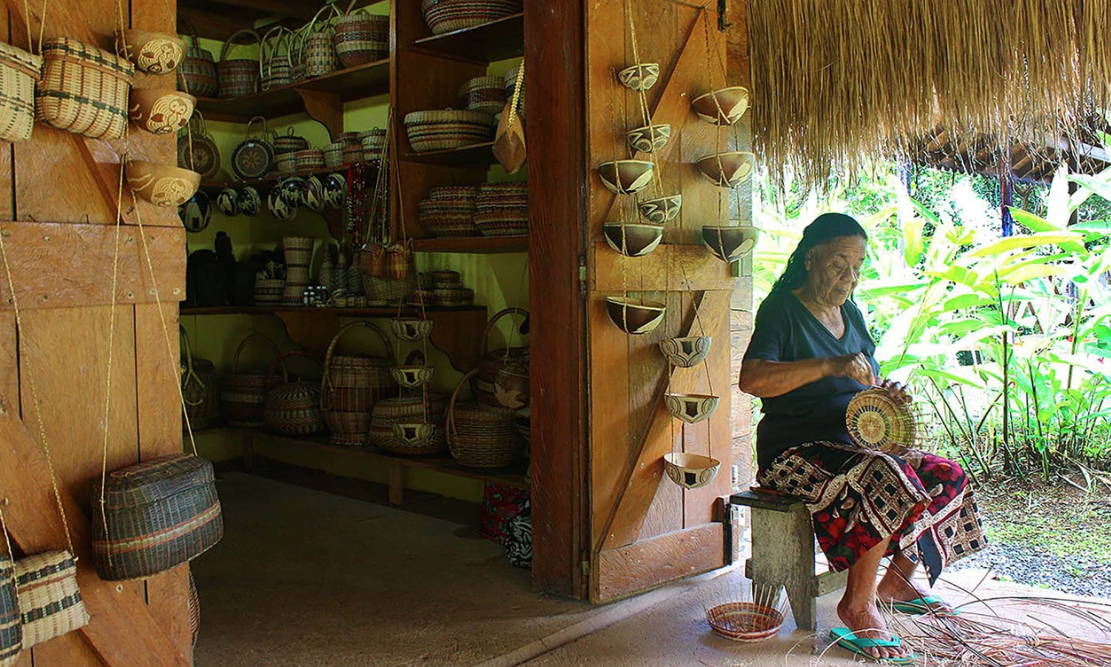 A Kalinago village, to honor and preserve their culture was established to practice traditional crafts and as well as stage performances. There are a number of smaller villages within the territory.
If you do pass through and visit the protected territory, village and hamlets…buy something.
Bush Bars, Kubuli and local Rum.

We're going to make this interesting…you've been to beach bars, Tiki Bars, but...have you ever been to a "Bush Bar"?
Think of them as "adult lemonade stands".  
Yep, tucked away in various nooks on rivers and trails, beaches and dirt roads, are very local bush bars. Trust us…these are not franchised. They are authentic, as are their rum concoctions.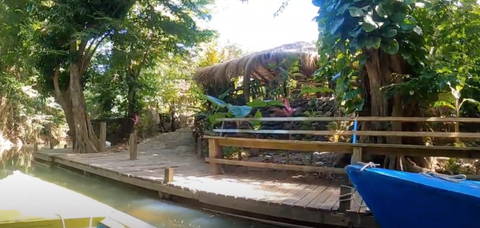 They can be as simple as a wood plank across some large stumps to some that resemble a reasonably stocked Tiki bar. Either way, it's the same model as your corner bar…but maybe just off a trail or up a river.
This also carries over to their own "custom" apothecaries and local concoctions guaranteed to "cure" whatever ails you.
These elixirs can be quite elaborate, interesting, and flavorful.
They are made with white rum that's been infused with herbs, spices, seeds, fruits and flowers, roots and so forth…most from ancient recipes passed down through generations.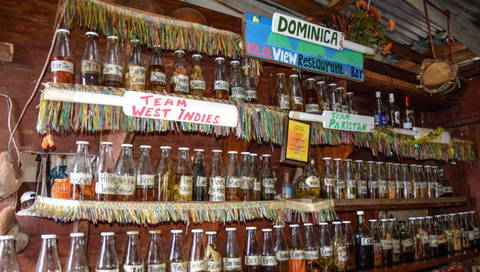 They have "elixirs" for just about anything…including curing the common cold. Or maybe guava leaf punch for a bad stomach. Another is an aphrodisiac, another is an "organic" solution to ED in a rum bottle. We're thinking the Rolaids people have some serious competition coming if they can put these concoctions into tablets.
Here's the gist of what makes this island culturally unique: an indigenous Carib tribe has legislatively carved out territory, owns/maintains that area and the islands language is a mix of English, French Creole, and dialects within. Those language patterns have been passed down for generations, as have their customs and belief.
The islands residents outside of the territory are primarily local decedents. They have their own styles of apothecaries, which have elixirs with centuries old recipes. Hmm, maybe, just maybe one of those secret sauces captured the fountain of youth.
All of which will wrap into a fascinating adventure for you!
First, rimming the island is the Atlantic to the east and Caribbean to the west. Quite frankly, the waters on Atlantic side are a bit more challenging. Be cautious of undertows and strong currents on the east side. Unlike other Caribbean islands, Dominica has a few spots on the Atlantic side where people surf.
The exact opposite on the west. With a few dozen beach options, the waters are calm, clear and perfect for a range of water sports activities, beaching and swimming. We'll guide you to a few of our favorites.
What makes this island so unique is the patchwork of rivers, waterfalls, streams and babbling brooks that quilt the island together. The waterfalls around the island are unique and worth the hike, and the "plunge".
Row up the Indian River, the widest in Dominica. Actually, best to have a guide handle the rowing and point out the fauna, birds and critters along the way. There's a pretty famous bush bar up river, Cobra, that serves a uniquely local rum drink known as Dynamite.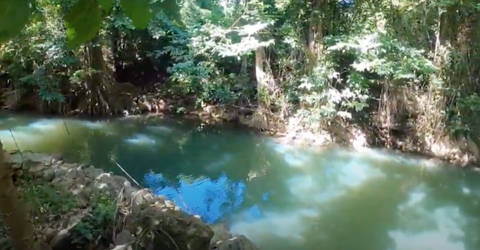 Stick with one, chase it with a water. Just as interesting, several scenes from Pirates of the Caribbean, Dead Man's Chest, were shot on this river (old witches house). It's a slow row, starting at the mouth in Secret Bay, and headed inland…but worth it. Definitely a "chill" event. When was the last time you rowed up river in a movie set to watch birds and drink local rum?
River tubing down the Pagua. Fun couple of hours on a mostly calm float. A couple spots that pick up the pace a few ticks, but the only thing to really worry about is the floating bar. Another option is tubing the Layou Gorge river. A few small rapids, but the river bounce puts a bit of zip into the float.
Mineral Rich, Hot Springs. Due to its volcanic foundation, the island is dotted with hot springs and pools. You'll come across them on various hikes. It may be more useful to visit one of the islands spas that have perfected "curating" these springs.
In Wotten Waven and Trafalgar (near Roseau) there are several of these springs which local spas have centered and curated their business around. All of the usual spa treatments/services, with the additional access to these continuously flowing hot mineral pools. Most are against gorgeous backgrounds. Slip in, get comfortable, take a power nap while soaking, and let the "worlds troubles" wash away. You'll be in a pretty chill frame-of-mind afterwards, plus your muscles will thank you.
The Great Waterfall Chase & Hat Trick
Trafalgar Falls. Actually, dual falls (mom & pop) and the largest on the island. From the parking area, about a 10 minute walk along an easy trail to view them. It may be worth getting a guide to take you up into the falls themselves to experience the warm and cool pools. If you're going to do this, you'll be maneuvering across boulders, etc. Take along an extra pair of shoes. If you're heading into and up the falls, expect to get wet. (Morne Trois Pitons National Park)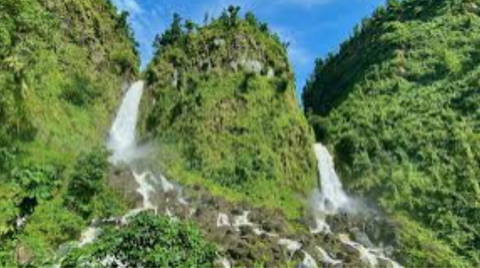 Emerald Pool. A few sites to take on inside this park. But first, the coolest waterfall and swimming pool is right here. Via the nature trail from the visitor center, it's about a 10 minute walk. You WILL want to hike down to the falls and catch a dip. The visitor center has bathrooms you can use to change into a swimsuit. If you've never swam at the base of a waterfall, and want to hit it at least once in your life. This is it. There's also a nifty cave you can swim in. (Morne Trois Pitons National Park)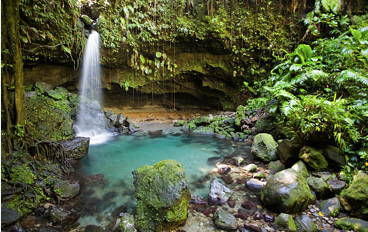 Middleham Falls. At about 275 ft, it's the tallest waterfall on the island. It's about an hour hike from the starting point, which is a parking lot with a small pavilion and decent bathrooms at the trailhead (important). You can manage this hike yourself. Most of the times there is a park ranger nearby to answer questions. The trail is pretty well maintained, some ups/downs, mostly through the tropical rainforest (lots of parrots and birds). At the base is a waterfall pool that you jump into (always feet first) and swim about…great for those action shots! Allow about 45-60 minutes each way. (Morne Trois Pitons National Park)
These next two go together, kinda like a 1-2 punch (Morne Trois Pitons National Park):
Valley of Desolation. This goes hand-in-hand with Boiling Lake. In fact, you'll be trekking through here en-route to the lake. It gets its name from the rugged environment that's characterized by steam vents, fumaroles, hot springs, boiling mud pots (hey, this sounds pretty cool huh…ok, maybe hot). Except for the steam shoots, the landscape reminded me of one part of the trek up Kilimanjaro. In its own way, it's stunning and unlike anything you've ever seen.
Boiling Lake. This is the world's 2nd largest "hot" lake. No swimming, for obvious reasons. It's about half mile elevation, 195 ft. deep, roughly 225 ft across. This is the end point of the hike through the Valley of Desolation. As cool water enters the lake, lava below heats/boils the water, particularly in the center. Again, it's terribly unique and worth witnessing once in your life.
Enjoy this adventure, get the guide, bring along a rain jacket just in case. And, plenty of water to stay hydrated. Maybe a couple snickers bars.
Diving & Snorkeling. There are numerous options surrounding this island for divers of all skill levels. Dominica is rated at one of the top five dive spots in the Caribbean and top 10 in the world. Mostly due to the unspoiled areas, reef systems on the northside, Champagne reef, cave diving at Toucari. It's also rated tops for pier diving, which makes it easy for beginners to join in with the group, or experience diving for the first time.
Free-Diving.
There's a bit of thing down in Soufriere Bay (SW Dominica) where free-diving is popular, and training/classes available. Free diving is holding your breath and going under without apparatus. Truthfully, not my thing, but it is probably good for your lungs and a good "life hack" to know. If that interests you, then this is the place to go. Actually, I probably should learn best ways to hold my breath longer. Some of top free-diving experts are there, they hold annual competitions and, if you are going to give this sport a try, this is the place to learn the right techniques.
PADI Certifications. They abound on the island. You can rent equipment, get trained and be in easy waters on the same day.
Similar to the beaches on the Pacific side of Costa Rica, the west side beaches are mostly volcanic black sand, and sometimes just a bit rocky. Quite frankly, there are quite a few beaches tucked around the island. Put at least these first two on your hit list.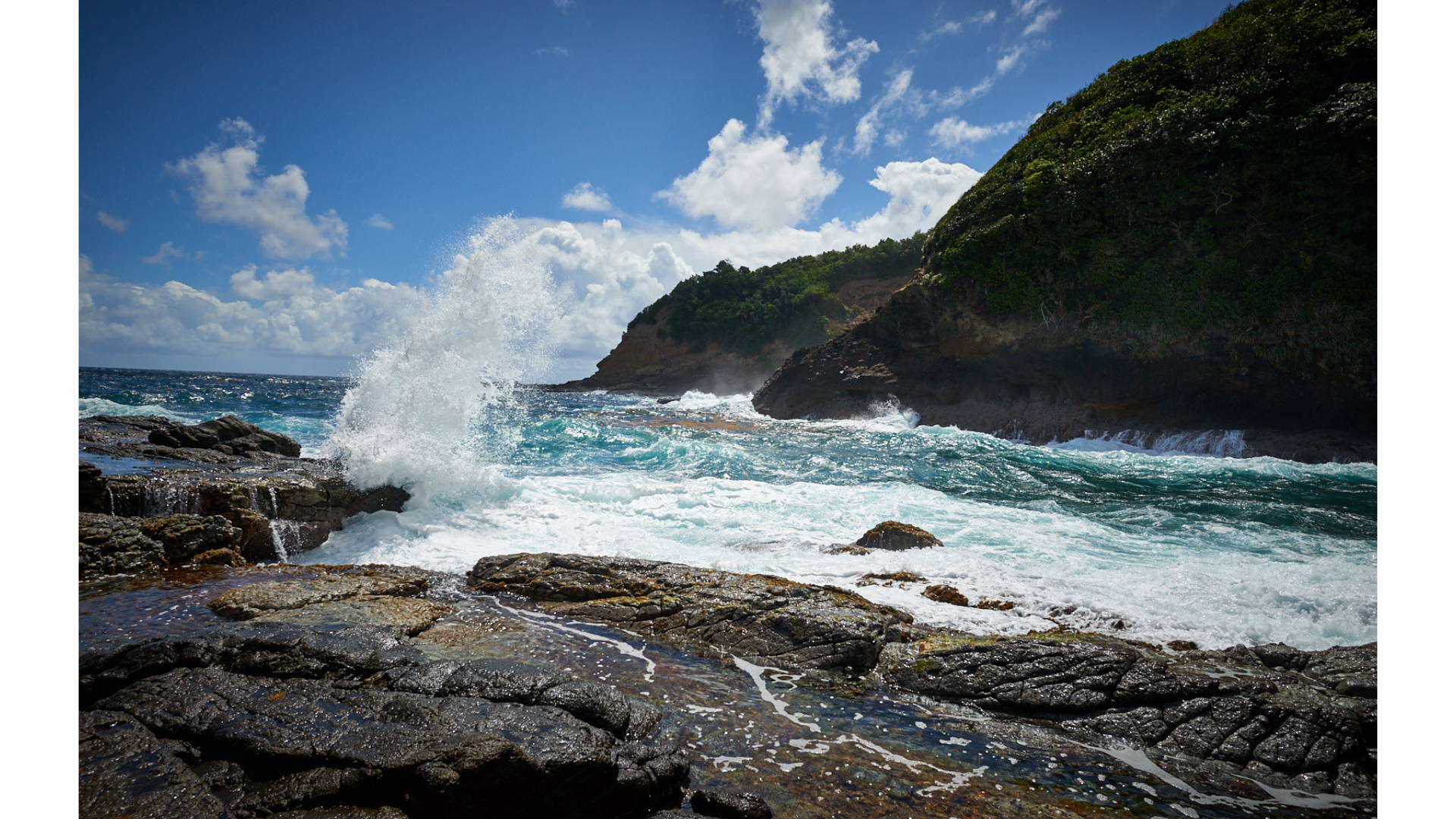 Champagne Beach. While the name conjures up images of bottles uncorking, it's exciting in a different way. Imagine yourself inside a Perrier bottle, that's the experience.
The water is crystal clear, but small gas bubbles continuously float up from the seabed. Marine life is abundant. The combination of you, bubbles, clear water, and local marine life becomes an irresistible shot for your screen saver.
Fantastic setting for some snorkeling or shallow water diving. Beach itself is a bit rocky with some black sand sprinkled about, so bring along some water shoes or old sneakers…and maybe your own bottle of champagne to enjoy on Champagne beach!
Mero Beach. The place to see and be seen. It has that popular, classic Caribbean feel, with black sand, calm waters…actually, it's a great place to spend a beach day. There are plenty of bars and restaurant options. My gang likes to hit up InDees for the lobster dishes. Oddly enough, give that old beach classic, the Pina Colada a try. Freshest ingredients, beachside, great people…not sure what makes it "hit the spot", but it does. And, as you'd expect, they have their own, handmade infused rums for enjoyment...or medicinal purposes. Quite frankly, it's hard to go wrong with their menu and service. (It is the Caribbean, so time does move just a little slower)
Coconut Beach. If you are up in the Portsmouth area, this is an excellent respite. You can access all of the classic activities: kayaking, horseback riding, jet skiing, yachting, tumbling and beach volley ball, and plenty of sun-catching. It's just north of Secret Bay resort. Since its part of the Portsmouth community, there are plenty of support systems in place in that area. There are a few others similar to this, such as Purple Turtle.
We've just highlighted three "go-to" beaches. There are numerous secluded and public beaches throughout the island. Based on where you are staying, explore a little. Here are a few more to tickle your interests: Woodford-Hill, Batibou Bay, Calibishie, Point Baptiste, and Purple Turtle Beach Club on the north side of Portsmouth. Enjoy!
mountains & national parks
Morne Diablotins. This is the 4th highest peak in the Caribbean (outside of Hispaniola), and an excellent day hike in the northern side mountain ranges. (Morne Diablotin National Park)
Nine of the Twenty-two mountains on the island exceed half a mile in height. Each providing a water source that leads either into the Caribbean or the Atlantic. If you are going to hike some of these, check with your concierge on whether a guide would be useful for your specific outing.
| | | | |
| --- | --- | --- | --- |
| Mountain | Height (ft) | Mountain | Height (ft) |
| | | | |
| | | | |
| | | | |
| | | | |
| | | | |
| | | | |
| | | | |
| | | | |
It's within those mountains and parks that we'll find the most unique activities and adventures. But the island is bursting with near any activity you're seeking.
Just…be active.
There are three national parks: Cabrits (1,313 acres on the north side), Morne Diablotin (8,242 acres…) and Morne Trois Pitons (17,000 acres), plus 2 Forest Reserves, a Marine Reserve, a Parrot Preserve, and the Kalinaga Territory.
To give you a sense of activities and adventures on this island, here's a quick list to check off.
Forest Bathing
Waterfall Chasing
Hidden Gorges
Guided Rowboat Tours
River Tubing
Whale Watching
Hot Springs & Pools
Coral Reefs
Dog Sledding
Hiking
Big & Small Game Fishing
Kalinago Territory
"Hot" Lake
Gorgeous Sunrises
Bush Bars
Apothecary Rum Elixirs
Waterfall Swimming
Aqua Caving
Birding
Scuba
Snorkeling
Free-Diving
Sunning
PADI Training
More Hiking
Genuine Creole Cuisine
Black & White Sand Beaches
Stunning Sunsets
Kubuli Shandy
Enjoy. Send us pics. Ah heck, it's too complicated…we'll come along. ;-)
---