Bar-Boating BVI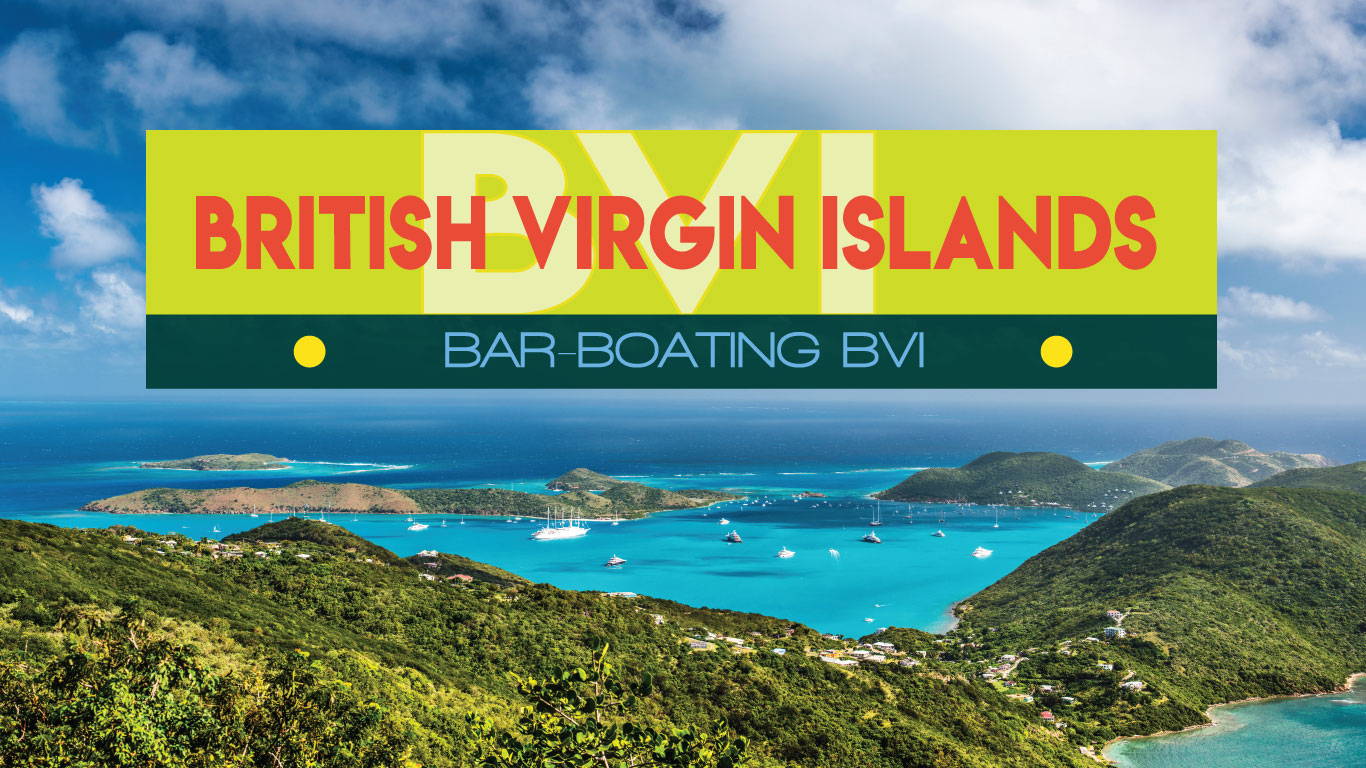 If you are ready to get "off the grid", want the adventure but really don't want the rustic "banana republic" experience. Which way do you turn?  
British Virgin Islands. There are a bunch of them. All reasonably close to each other, and we've hit most of them.
No question that the best way to experience the BV Islands is to visit several of these gems via the water.
First up…Hurricane Irma's direct hit on BVI was crushing. I had just come back from visiting my friend, Charles Tobias of Pussers, in Tortola, BVI when we watched the news and waited for communications to get restored.
While the BVI recovered from that devastation, the pandemic and lockdowns took their toll. The tourist industry that had sustained the local economy for decades completely dried up.
But now…they are back (mostly). The timing to explore the islands dotting BVI's Drake Channel is excellent.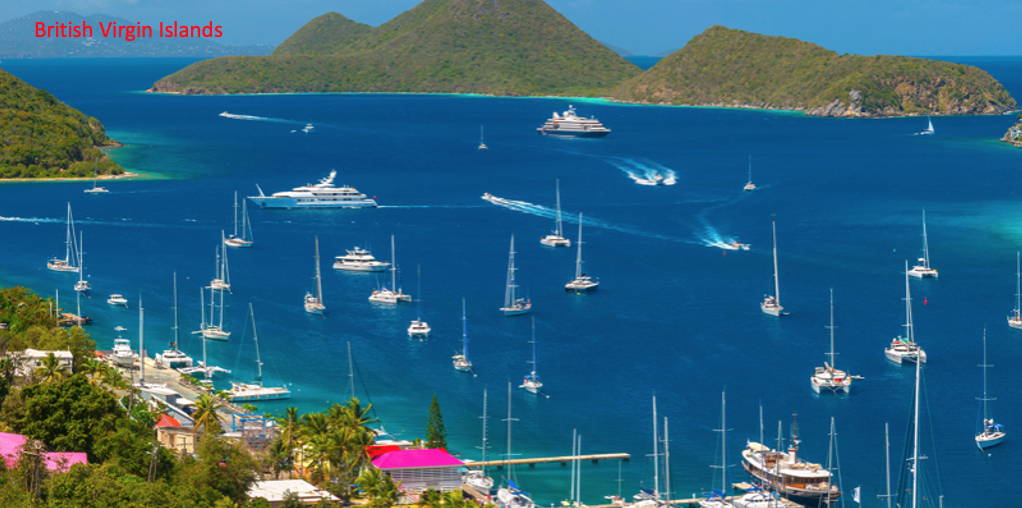 We've crafted a 7-day itinerary of our favorites with an emphasis on "bareboating" & "bar-boating". First, "bareboating" is not boating while naked. Well, you can…but take along extra sun screen. Chartering "bareboat" means no captain, mates or food/drink provisioning. You are chartering just the boat itself, nothing else.
This may sound daunting, but in the BVI it's not. You can certainly charter with a captain/crew, but our adventure has you running your own show.
There are several advantages to staging this specific type of adventure in the BVI.
Most of the islands you will want to visit are easily accessible and visible to each other. Genuinely, it would be hard to get into too much nautical trouble.
Each island is unique with their own "flavor", but all are under one consistent government.
Standards for food and water quality are high and safe. Meaning, you can reprovision along the way and have confidence in the setting.
The people are warm, friendly and will be very happy to see you.
We've also oriented our recommendations a bit more on "bar-boating" the BVI. Meaning, experience the islands but also enjoy a few "world famous" beach bars and settings along the way. Guarantee you'll meet some interesting people along the way.
We're starting this adventure in Tortola. Largest of the BVI islands, and easy to fly into via San Juan. Restrictions are easing up by the day.
Tortola is also your navigational anchor. Unless you head out to Anegada, it will always be visible.
Roadtown, Tortola is our base. It is a port harbor with plenty of suppliers, hotels, etc. It's also the capital of BVI. Everything you'll need you can get in Roadtown, including the boat. The map below is our guide to help you visualize the route. Of course, make up your trail…hopping these islands is just that easy.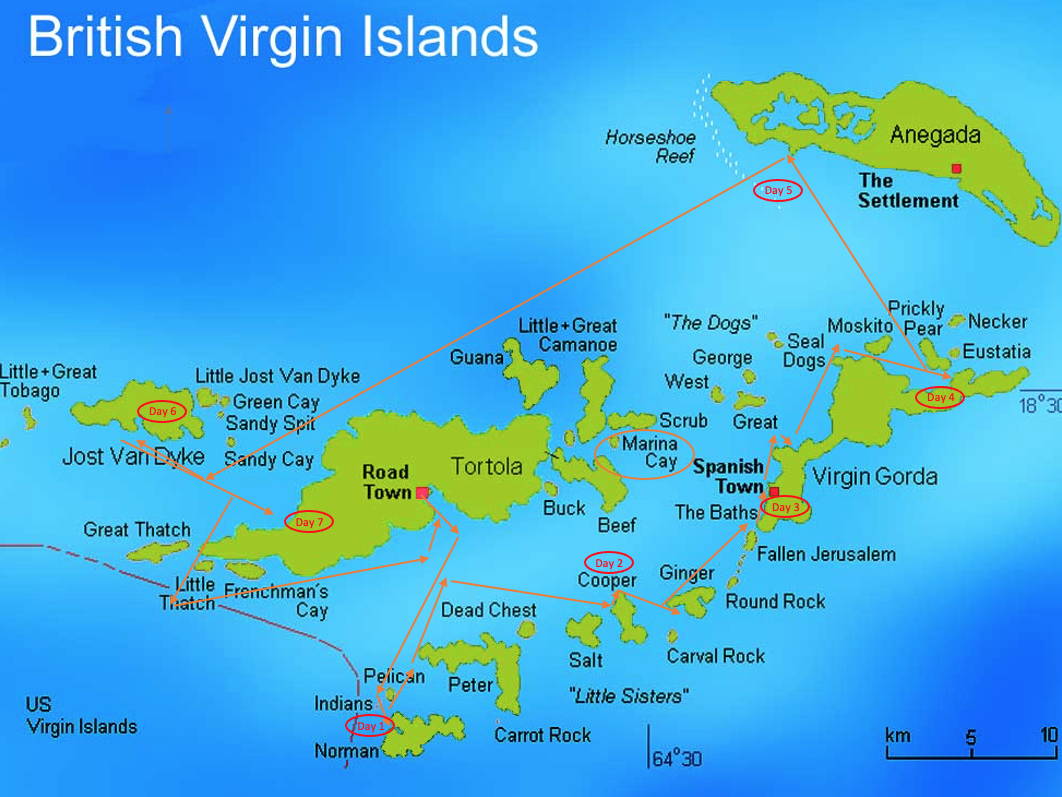 Arrival day, grab lunch/dinner at Pussers Roadtown Pub. That's about as rugged, old line, British pub as you'll find on the island. If you are going to overnight on arrival day, stay at Marias. It's clean, locally owned, centrally located, with good food and very helpful staff. Use the day to mark your arrival with the charter company and do some provisioning. Many charter companies will line up local delivery services for you.
Day One: We're heading out from Roadtown on a S/SW direction towards our first two spots, The Indians and Norman Island.
Finding The Indians will be the most challenging part of this journey. Depending upon your speed and the flow of the trip, you'll be there in 1½ to 2 hours. The Indians (18.3318°N, 64.6288°W) are a series of "islets" (large rocks popping up about 30-40 ft above the waterline).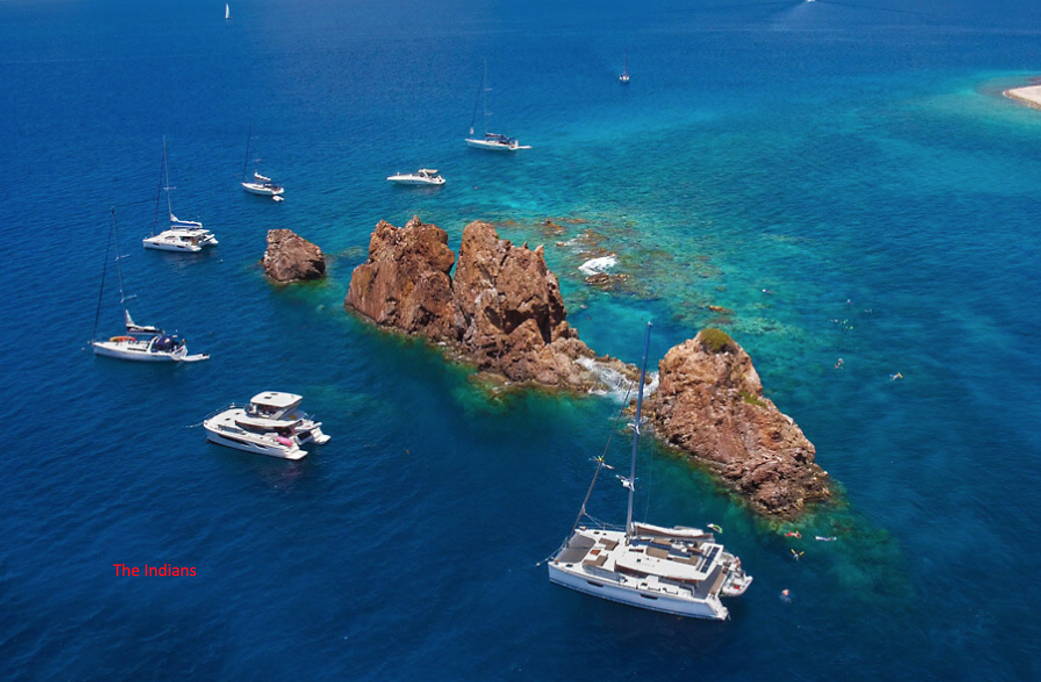 They are located just above Norman Island and a "stone's throw" west of Pelican Island. This is the perfect place to snorkel or dive. Mooring buoys are available. No question, this is the best spot to snorkel in the BVI.
Come afternoon, saunter on over to Norman Island and anchor/moor in Bight Bay. Big decision coming. One of the most famous dive bars in the Caribbean is floating in Bight Bay. We're guessing you've heard of Willy T's. Time to experience it.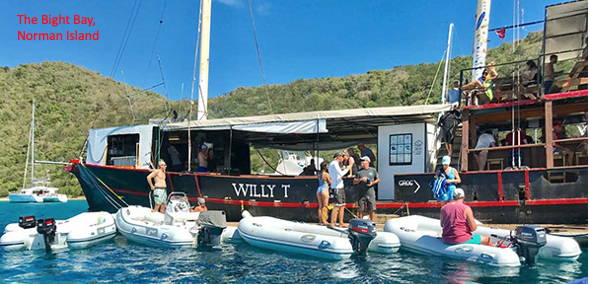 It is absolutely worth dropping the dingy in and heading there for a cold one. The rumor is that you'll get a free shirt if you jump naked from the top of the bar into the water. Take pics. Seriously, you don't want to miss this one. VHF Channels 16/74. Call 1-284-340-8603 if you want a reservation for lunch or dinner.
Day 2: We're headed out this morning, moving NE towards Cooper Island. We're cruising past Peter Island for the moment. Peter Island and White Bay Beach are lovely, but the private island is still working to reopen. Check that here: Peter Island. Depending on whether they're open, it is certainly worth dropping in for lunch.
For now, we'll gently pass this serene setting and head up to Manchioneel Bay (18.3788° N, 64.5104° W) at Cooper Island. Specifically, we're looking for Cooper Island Beach Club.

Spoke with them this morning, they are indeed open. My experiences here are more genteel. There's no free shirt for jumping naked off of anything. BUT…they do have a world class Rum Bar! Close to 300 rums, sampler boards and quality food.
Anchor/moor in the bay and dingy in, or call first and dock. There is a perfect, crescent moon shaped beach to walk or just hang out. With a fully stocked bar, restaurants, kayaks, etc. you can make a nice afternoon enjoying the environment, walking the island a bit, and just pure "chilling" the day away.
Day 3 & 4: We're going to spend exploring the uninhabited Ginger Island and Virgin Gorda. The fun part of Ginger Island is that it is one of the last undeveloped islands in the BVI. Quite frankly, it's a little treacherous. There's a coral lagoon on the Atlantic side, accessed via Wedgeo Bay. But don't attempt it. Those that do visit drop anchor in South Bay. We're recommending a close-in "drive by" mostly because of its wild, natural, raw beauty. I've "low" flown over, as well as nestled into South Bay. It's quiet, peaceful and reminiscent of a time when pirates cruised these islands.
Given the near inaccessible lagoon on the Atlantic side and steep, mountainous drops to the sea on the south side it's easy to visualize yourself as Tom Hanks in Castaway. Enjoy the serenity. Either hunker down for the night in South Bay or head one more hop up to Virgin Gorda.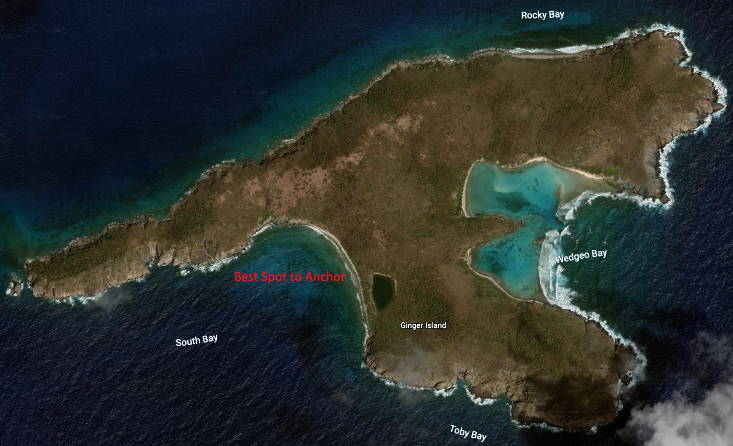 Fortunately, our stop is going to be on the south side of Virgin Gorda, Devils Bay…an area known as "The Baths". Truthfully, it's pretty cool and famous. First, The Baths are a BVI National Park. You will be approaching via sea, others will be making the trek to the water via pathways through the park. Bring along the snorkeling gear.
Quick background, most of the BVI were former volcanoes. Here, enormous boulders that have been smoothed by the seas form a fascinating network of grottoes, caves, tidal pools, tunnels and a bit of a maze to wander through. You can hike to the top and hit some touristy stuff, but only if you're in the mood to stretch your legs and do a little walking.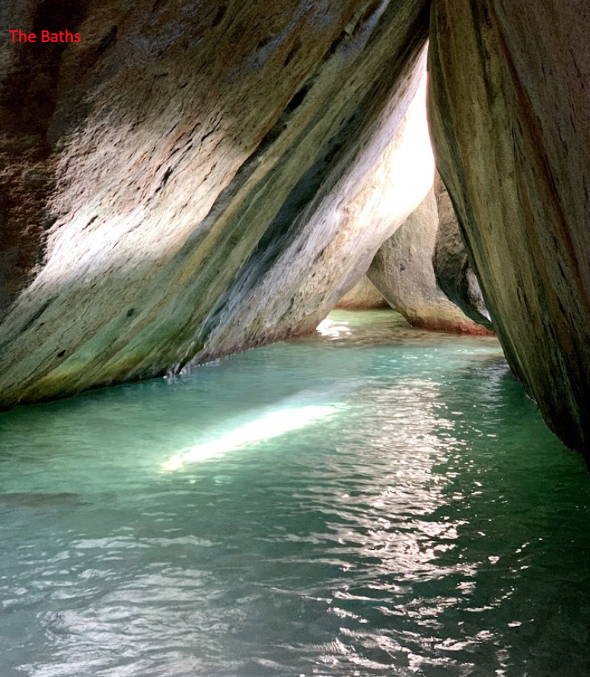 It's worth about half a day to explore, relax on the beach, swim and snorkel a bit. Absolutely make this stop, but just for a few hours. While it's interesting, once you've done it, you'll be ready to move on.
Staying on the Drake Channel side of the island we're going about 15-30 minutes north and stopping at Yacht Harbor Marina in Spanish Town (18.449°N, 64.431°W). This is the place to reprovision. It may even be worthwhile getting a slip for the night and enjoy the area. It's the 2nd largest town in the BVI with plenty of shopping, restaurants and activities.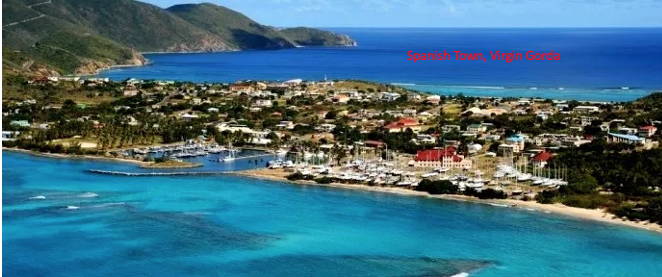 Now comes a little side adventure and decision. We're pulling out of Spanish Town, (St. Thomas Bay) and headed north. Around the 1st corner is Little Dix Bay. Well worth dropping anchor, swimming and enjoying the beach. It is a very picturesque setting. There are also several charming "bays" along this coast. Take it slow and enjoy the journey.
We're looking to get ourselves northside of Virgin Gorda to the Bitter End Yacht Club. 
They are in the midst of building back from Irma. All top flight people pulling this BVI icon back.
There have been "Rocking" New Year's Eve's at Bitter End, where the harbor is dotted with yachts. Both the locals and the boat people have partied deep into the night. Together.
Depending on when you're making this trip, stop in. Either the beer will be cold or the champagne flowing…just depends. Best to anchor in their harbor or thereabouts. Rest up, we've got a bit of a journey tomorrow.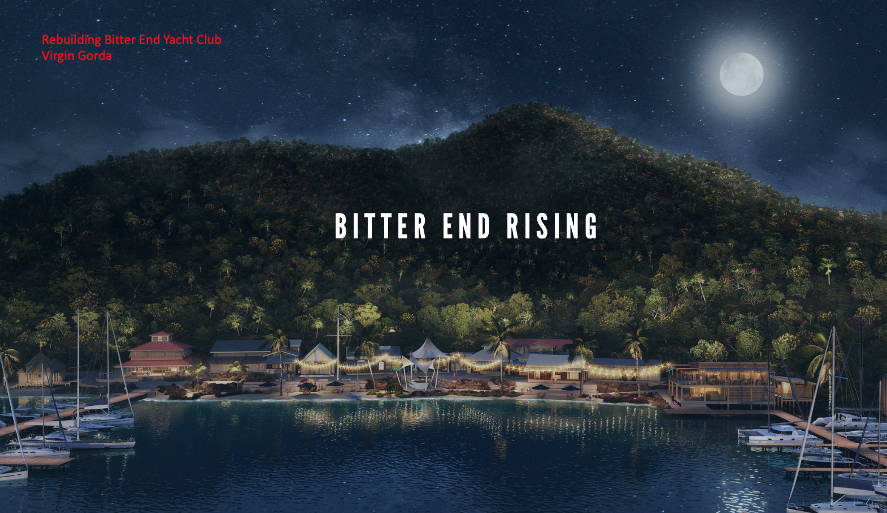 Day 5. Anegada. (18.7272° N, 64.3431° W). From the North Sound of Virgin Gorda, it's only about 11 miles. However, you're crossing the Atlantic to get there.
Easy enough, just check the weather…which of course you're doing every day. Anegoda is different from the other islands. It's mostly flat, the highest point is 28ft.
The island is near completely fringed with miles and miles of sandy beaches. Horseshoe reef stretches about 10 miles into the sea from its SE point. Hundreds of shipwrecks dot this area, which make it attractive for divers. It's also famous for lobsters and for their conch shell graveyards. This is certainly the place for conch shelling.
And Bone fishing.
Actually, world famous Bone fishing. Truthfully, they are tough to catch. We got a few, but somehow that particular day it may have been more "luck" than "skill". Either way, if you head that way, take a couple hours with a guide and give it a try. There are very few people that can claim they went Bone fishing in Anegoda (considered one of top fishing spots in the world for Bone fish).
Let's be clear. It's a little tricky getting to Anegoda, but not so much so if you pay attention. Your target is Setting Point. The channel is well marked, stay in it and you'll be fine.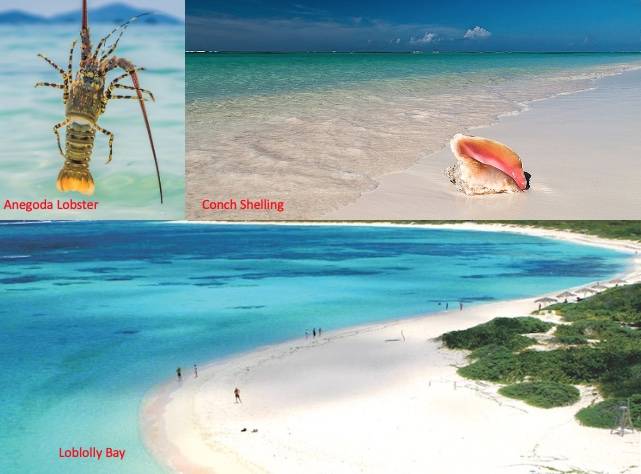 There are taxis that can take you around the island. After a couple hours of Bone fishing, we had a great afternoon enjoying the beach at Loblolly Bay, cold adult beverages from their beach bar, and a lobster feast at The Big Bamboo. Just an FYI…the bone fishing is right near the shores. With a guide, you'll be casting in 10-15 minutes.
Enjoy the day and relax. Best to head out in the morning.
Day 5 Alternative (Depending on whether Anegoda worked out). An alternative to Anegoda is tucking away on the North Side of Tortola. There are a series of small islands, coves and nice places to moor or anchor. An easy spot is right off of Marina Cay.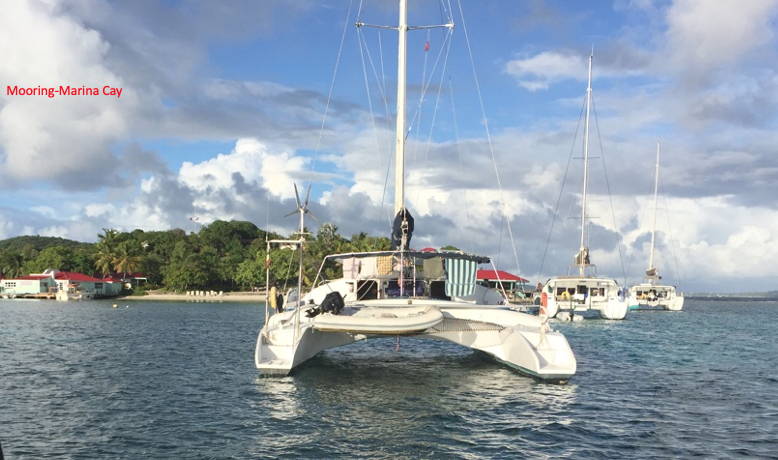 Day 6
If you did head out to Anegoda, use the morning to cross back to Tortola, but on the western side, such that Tortola is port side. Our preference is to enjoy the waters on this day, let the wind blow through your hair, toss on some Old Spice and be a commercial. You may see a few humpback whales along the trek.
If sailing, about 4 hours or so will get you into Jost Van Dyke.
Jost Van Dyke is bar-boating heaven! You have two awesome options. Do both.
The right answer here is moor/anchor out in Great Harbour and paddle your way in for a quick visit to Foxy's. Enjoy a drink and light fare, then head back out.
Foxy's "Old Year Night", which is December 31st, may well be the largest party in the Caribbean.
Seriously. We had come across by boat from Cane Garden Bay. Foxy's was a mob scene, someone famous on stage, the docks loaded with dinghies. So much so that they were tied up against each other 4 to 5 deep. They all looked the same. One lady, attempting "Dinghy Frogger", was trying to find hers, and OOPS. But we did gallantly fish her out without harm.
Right around the corner from Great Harbour is another one of those "most famous beach bars".
Really, you are just rounding the point and heading into White Bay. Should take you 5-10 minutes to make you way to the Soggy Dollar Bar.
That may actually be the most famous beach bar in the world. Here, check it out. It's the Soggy Dollar Webcam.
In addition to its awesome location, it is the home of the infamous Painkiller Cocktail.
And yes…order up an authentic Painkiller. BTW…only BVI's Pussers Rum counts as a true "PK".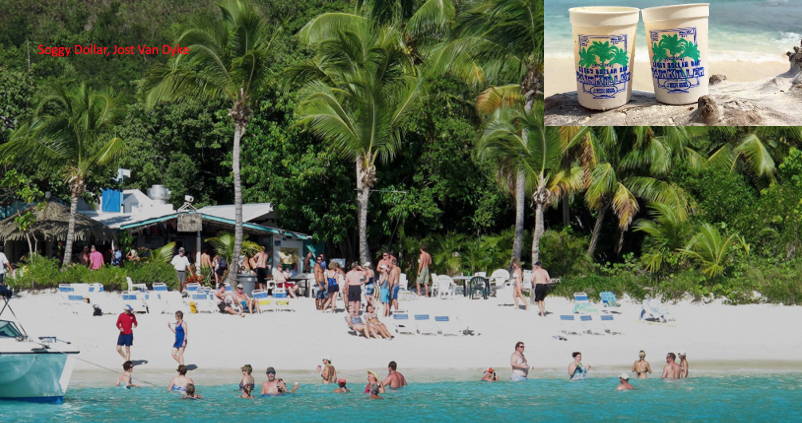 Kick back on the beach and feel pretty damn good about this new life you are creating.
If the pandemic taught us anything, it's "Carpe Diem".
Hang out in the harbor that evening. After a "PK" or two, leave that boat right where it is.
Day 7, last full day. Cane Garden Bay. A personal favorite. In fact, Jimmy Buffet references it in "Manana". More "lure" is that he wrote 'Cheeseburger" while hanging out at Cane Garden Bay.
It's another gorgeous beach. Plenty of calm waters to anchor and spend the evening.
In fact, toss on something decent and head into Quitos. Very lovely environment, great jazz and local reggae, plenty of dancing and merriment. Food is top notch, plus enjoy some very, very local rum. Here's a cam link looking at the bay from Quitos.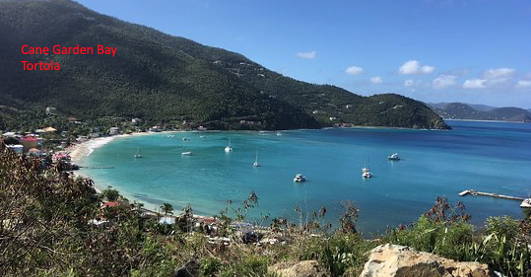 Perfect setting to close out this journey that was designed to rejuvenate your soul and find that inner you that was stolen during the pandemic. Maybe you even had inspiration to outline the notes for that book you've been thinking about, write the lyrics to the next "American Pie" or "September", or just sketch a few of the sites.
Final morning: You're just dipping around the south side of Tortola and headed back in to Roadtown. If you're looking for one more stop…try the West end/Sopers Hole. Its right on your way back in.
There are plenty of "Touring BVI Guides" out there, all are very "nice".
But, if you're interested in getting off the grid a bit, meet interesting people, go a little "local" and recapture that youthful spirit…use our guide as a good launching point to create your own BVI adventure.
Enjoy. Send us pics. Invite us down for a beer. ;-)
More come back on-board every month, here's a few to get you going, but do a google search when you're ready. Both chartered and bareboat:
https://www.bviyachtcharters.com
https://horizonyachtcharters.com/bvi/
https://www.voyagecharters.com
---