Best Bars in Key West for Live Music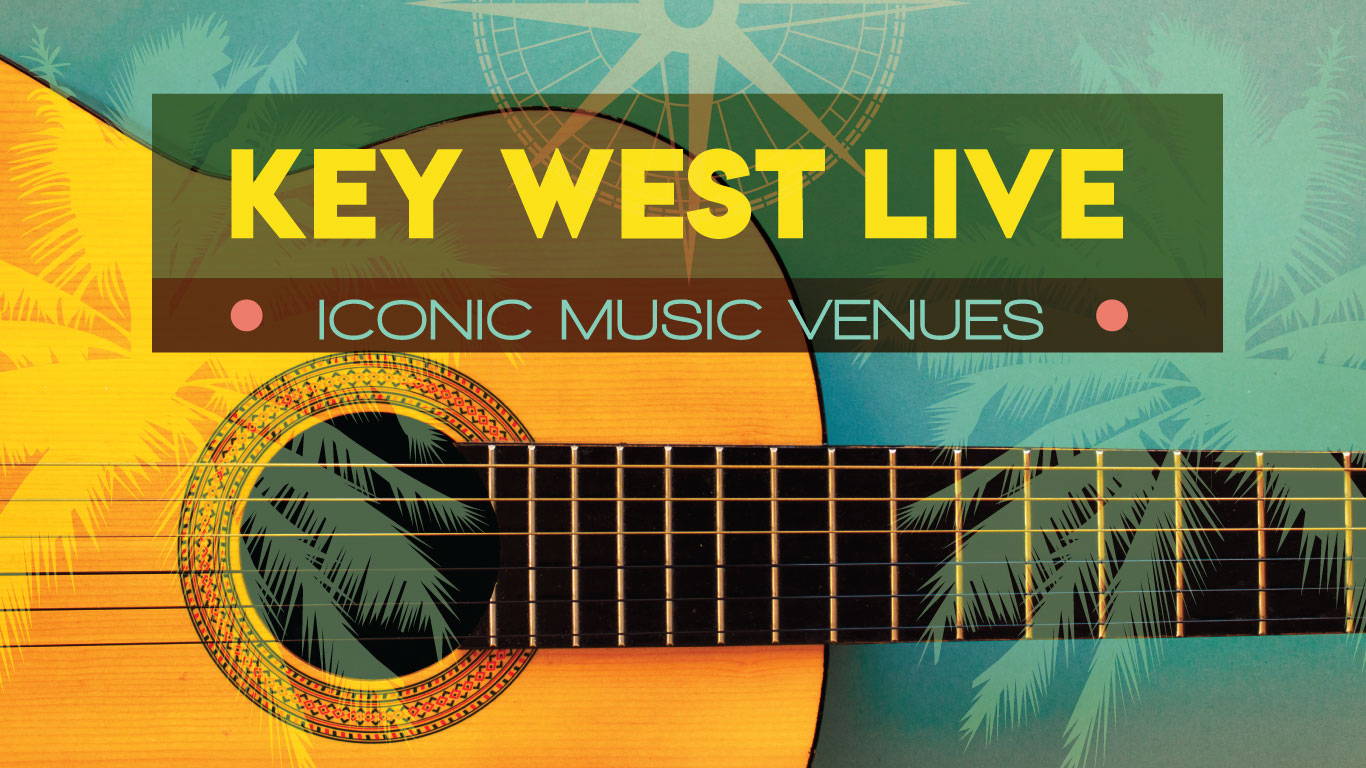 Planning a trip to 'paradise', otherwise known as Key West. Be sure to stop by some of these bars/venues to put the icing on your utopian visit. There is an ocean of hotspots on this tiny heavenly island to experience truly awesome music, anytime day and night. Here are some iconic and new locations we recommend for soaking in some quality sounds.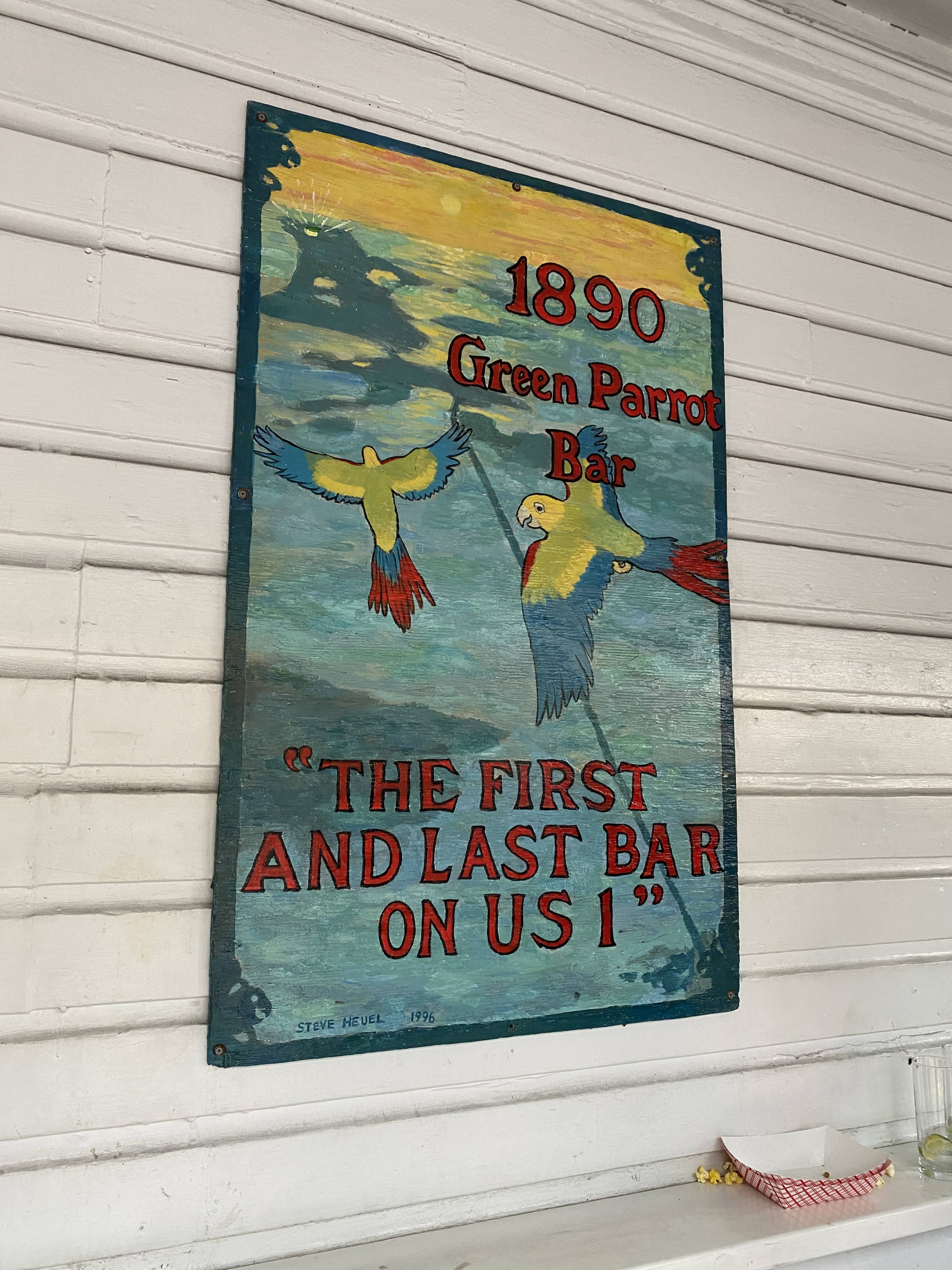 Can't get more iconic than this local jewel. Opened in 1890, as a grocery store, there was a slow transition to a bar as local Cuban transplants often had impromptu jam sessions in its small back room.
Fast forward to the 1940s when it became known as the Brown Derby during the second World War. Here, submarine sailors stationed at the base only a block away hung out to enjoy a few cold beverages with their friends and blow off some steam.
Fast forward again to the 1970s when it became the Green Parrot. An indoor bar that opens the windows and doors and becomes an indoor/outdoor gem.
The family and friends' spirit that was such a part of this place still permeates the bar to this day. Pull up a chair inside or at the tables along the windows on the outside. There is no judging here, just great camaraderie, conversation, and music.
The daily Happy Hours run from 4 to 7 pm. Live music is available almost every day of the week. Check out their live music calendar here.
If you're truly going local, hit here during the 5:30 Friday afternoon Sound Check. Or, if you need to back it off a bit, swing by for Monday evening Bingo. Runs from 7-9 pm. All proceeds go to local charities. Seriously, while the numbers are being called you could hear a church mouse. And, of course, the bar is open. But there are still a number of musicians playing…enjoy!
Music runs the gamut. Want some country? They have it. Some rock? Of course. Fiddling around? Sure. Tributes? Naturally…one recent Tom Petty was amazing. Heck, there is even the Ukulele Night once a month.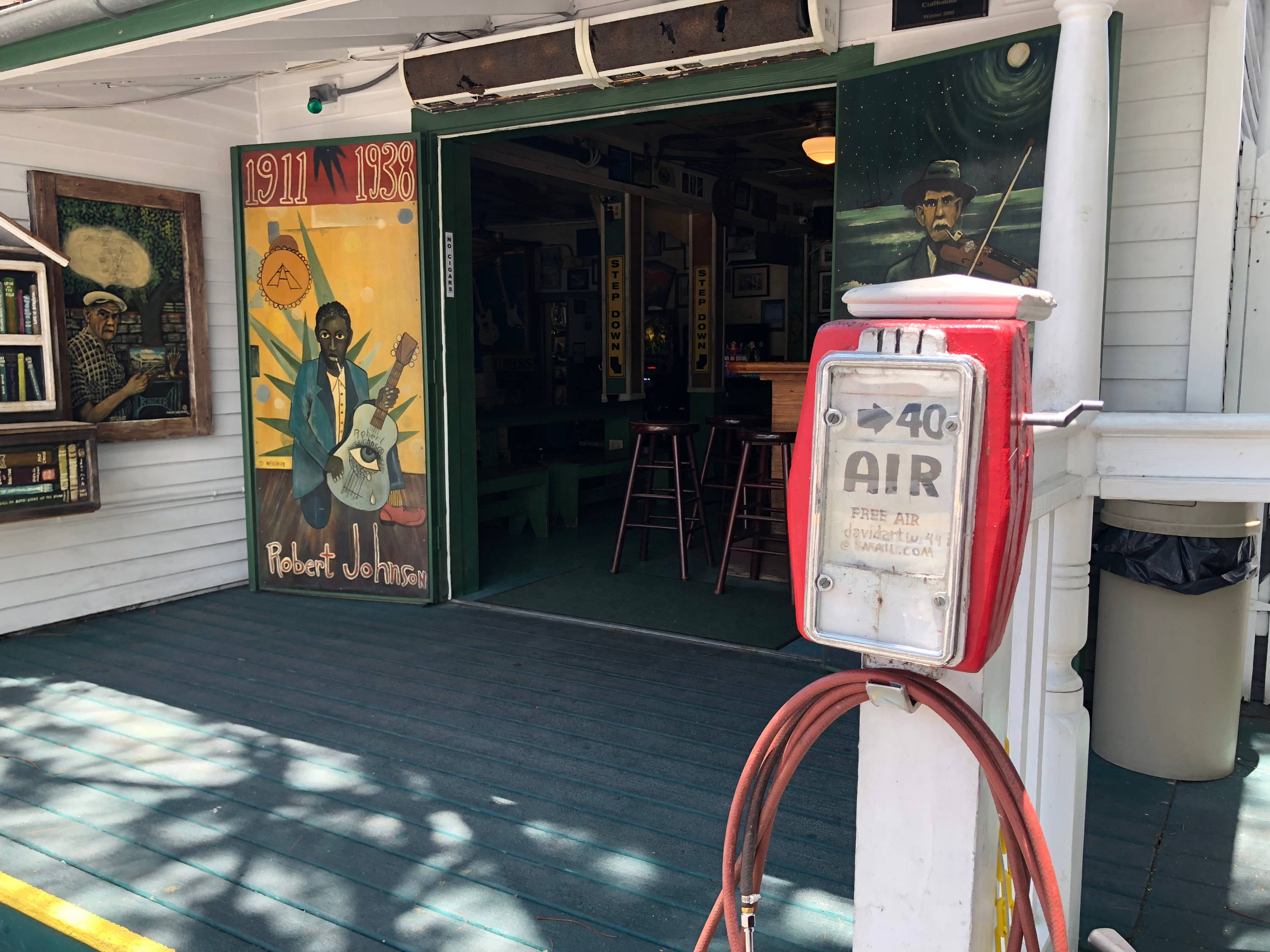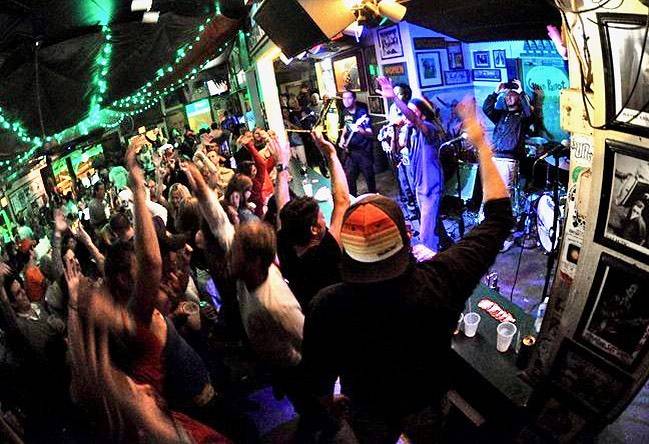 Food? Well, they serve popcorn! Here the focus is on strong drinks, great music, and lots of chatter.
The music here is spectacular and there is always a first-class performance no matter what genre is playing. We love the tables near the windows, both inside and out. No matter where you sit/lean/stand/hug/smooch it's a great place to listen, lounge, and laugh.
Come catch a piece of Key West history. And you gotta love their motto… "No Snivelling".
If you like your music in an outdoor open-air hangout then this is the place for you. With a courtyard stage and two large outdoor bars, Smokin' Tuna provides a unique island setting and a terrific place to listen to music.
Here you can grab a table, a barstool, even a couch or two and cozy up close listening to some top-notch bands. On most days three different bands perform until the place closes at 2 am. Here is their full music schedule.
Given the outdoor environment, the place has a tropical feel. Noted for their friendly staff and over a dozen frozen drinks, the outdoor patio just adds to the equatorial ambiance. Even though it is outside, the bars and the stage are covered in case of one of those brief Florida showers.
Located just a few steps off famous Duval Street, Smokin' Tuna offers fine seafood, burgers, and more for lunch and dinner, until 10 pm. Looking for a place to have a private party, give them a call, and they will make it happen.  
Smokin' Tuna is a proud sponsor of the Mile 0 Music Festival, which runs from January 25th through Saturday the 30th, and the Key West Songwriters Festival, May 4th through the 8th.
So, if you want to sing along, loud, and proud, Smokin' Tuna, at 4 Charles Street, is the spot you'll want to hit. And while you're there, maybe give their "smokin' tuna" a try.
HANK'S HAIR OF THE DOG SALOON
Haven't we all experienced the hair of the dog a few times in our life? Well, if so, Hank's is a place you will love. It is a dog-friendly restaurant/bar with a live music venue. Acts perform two or three shows here every day, all year round.
One of their featured artists is Rob Benton who will surely get your toes tapping and voices going. Other acts include Sheldon Benton, Tony Baltimore, and Caffeine Carl & George Chapman. Check when they are playing on Hank's Calendar of Events here.
Hank's is open every day from 11 am until 1 am. It has two Happy Hours each day, and both are three hours long (YESSS!!!). The first one is from 11 am to 2 pm, which is needed to work through the Hair of the Dog from the previous day. Then again from 4 to 7 pm, to get you started towards the next Hair of the Dog.
With all those Happy Hour's you may need something to quell your hunger. Look no further than Garbo's food truck that sits behind Hank's. You may think, a Food Truck?? Really?? YES, REALLY!! 
Garbo's was featured on Guy Fieri's show "Diners, Drive-Ins, and Dives" to rave reviews. With a selection of tacos, burritos, burgers, dogs, and even lobster rolls, Garbo's surely satisfies any rumbling stomach.
Bring your friends, your dog, your love of music, and your island attitude to 409 Caroline Street and enjoy the great outdoor ambiance for a perfect afternoon/evening. Your pal Spot will love it too, right Spot? WOOF WOOF!!!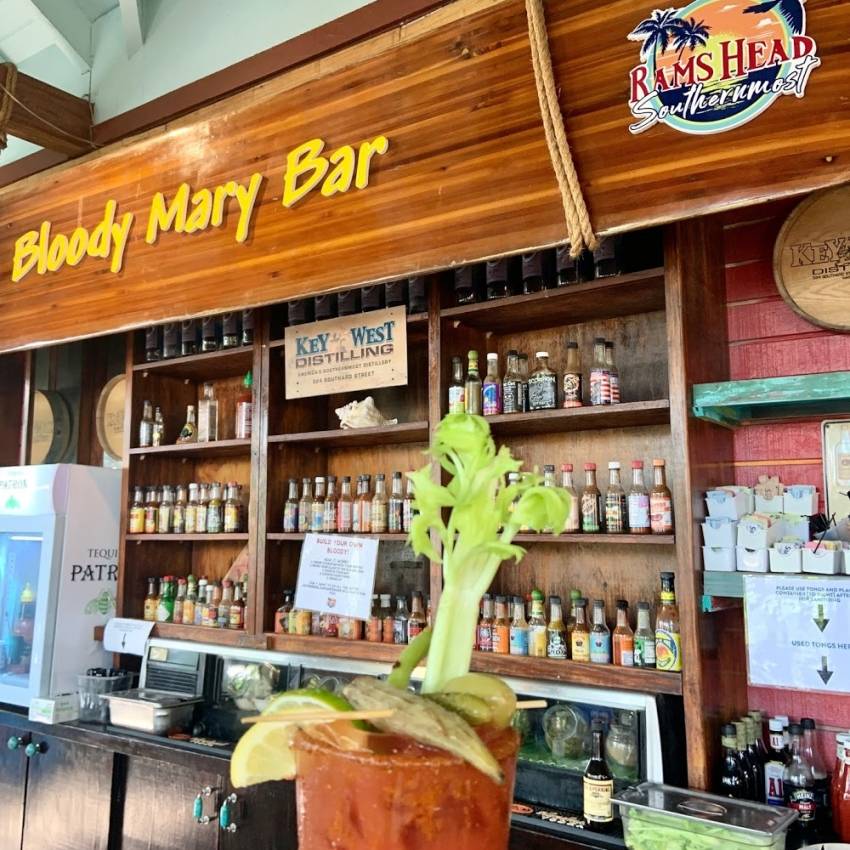 Looking for a new music venue to explore in Key West? We've got one for you. In 2019, Rams Head purchased a bar and restaurant formerly known as the Blue Macaw. It was also the long-time location of the Bahama Village Straw Market. Now called Rams Head Southernmost, this family-owned location features craft beer, modern island fare, and of course some great tunes.
People who have come to Rams Head rave about the waitresses, waiters, and bartenders. They laud the staff as some of the friendliest, most helpful they have come across.
Rams Head offers some of the best of Key West's local musicians, and regional artists as well. Check out their daily lineup of live music here. Most days the music runs from 11 am to 2 pm and then again from 5 until 8 pm.
This venue is an open-air outdoor venue set beneath palm and shade trees with a covered area for table seating and at the bar. Oh, they added some fountains to further add to the ambiance.
Locals and visitors alike are enthusiastically praising the food served here. The menu features local favorites like conch fritters, and Key West Pinks Shrimp. But that's just the start. Fresh salads, tacos, flatbreads, sandwiches, and a varied dinner menu make your choices just a little more difficult.
Open for breakfast at 8:30 daily, don't miss out on Key West's largest build your own Bloody Mary Bar.
Choose from a host of unique craft beers you won't find anywhere else on the island, as well as the traditional bottled favorites. Featuring tropical rum drinks, frozen island specialties, or just your favorite cocktail, enjoy their top-shelf options.
Sit back, relax and enjoy as the musicians strum some old favorites and some new melodies that are sure to become old favorites.
They may be one of the new kids on the block, at 840 Whitehead Street, but stop by and see what the buzz is all about. We wholeheartedly welcome Rams Head to our piece of heaven.
This classic waterfront setting is located at 0 Duval Street. If you went any further, you would need a lifejacket. Sunset Pier offers stunning sunset views, a large tropical tiki bar, and diverse musical offerings daily. A host of tables and the long bar rail along the pier provide the perfect locale for spectacular sunsets over the Gulf of Mexico.
Looking for a memorable lunch spot? You've come to the right place. The multicolored tables/chairs and huge shading umbrellas add to the perfect tropical setting while you sip on island beverages served up frozen or chilled, just the way you like it.
Live music starts daily at 1 pm with local musicians, playing your favorite tunes. Got a request? These folks love to play to the crowd and enjoy playing the tunes you love. To check out who is performing today or coming soon, check their daily events calendar.
Naturally, the pier is buzzing late afternoons and evenings for the breathtaking sunset views. Keep your camera ready, (of course, we mean your cell phone), as the sun shuts down for the day.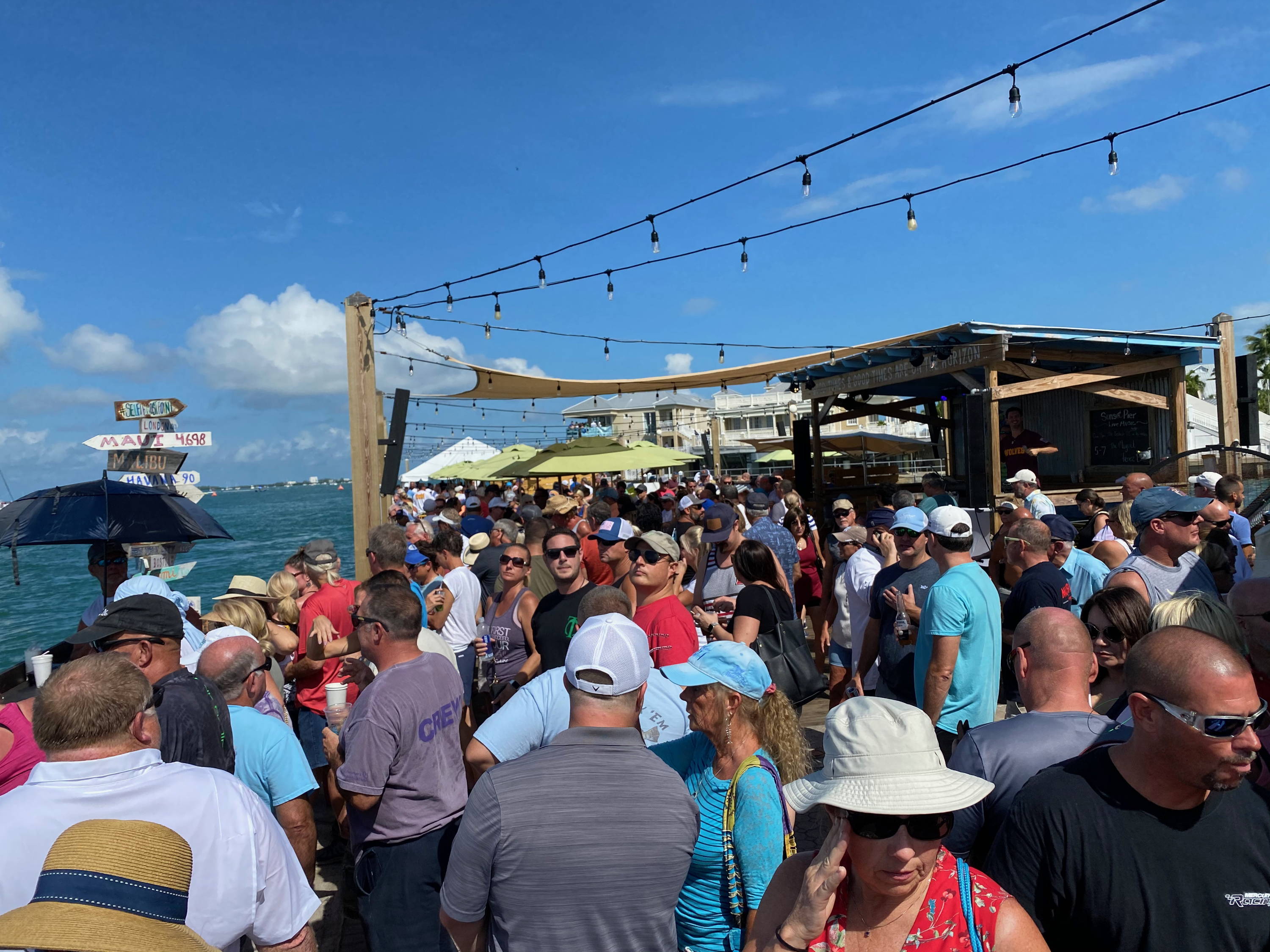 Want to pick up a souvenir or two? There is the Ocean Key Resort just a few steps away, and right next to the Tiki Bar is the Sunset Pier Surf Shack, with unique tees and island wear.
Be sure to check out Mallory Square, just a short walk down from the pier. Mallory Square has performers, including jugglers and magicians, entertaining the crowds each evening and a collection of shops for all ages. And of course, scintillating views of the sunsets.
Make a plan to visit Sunset Pier and Mallory Square, definitely 'must-stops' on your Key West trek.
Another island institution located at the Key West Historic Seaport is Schooner Wharf Bar. Located on the site of the old Singleton Shrimp factory, this open-air bar is a favorite of locals and visitors alike.
The music starts daily at noon, and runs at least until 11 pm and beyond. They like to refer to the music ending 'late' on most nights. ('late' being pretty much closing time of course). Talk about a variety of music; from pop, to rock, jazz, blues, and of course some funky Caribbean sounds are always in the air.
One of the local favorites, the Key West Soul Party, performs classic Motown and funk music. They get your toes tapping, and you'll want to get up and dance. Well, DO IT. Dancing is always encouraged here and is just a part of the festive atmosphere.  
Schooner Wharf has evolved over the years and has added a second-floor deck with awesome views of the classic yachts that line the docks. We might be able to afford the yacht's dinghies, but while you dream away, enjoy the music that surrounds this place. Check out the entertainment schedule to see what acts are coming each day.
Want to get that 'local' feel, look no further than this dockside setting. Schooner Wharf has been voted Best Locals Bar seven years in a row. Like most places in Key West, strike up a conversation with the person next to you, and you'll likely have a friend for life.
What about their menu? If you are an early bird, stop on in, they have breakfast starting at 8 am Friday through Sunday, and 8:30 am on the other days.
The lunch and dinner menu are filled with items from the raw bar, appetizers, soups, salads, and sandwiches. The dinner 'galley plates' offer a large array of fresh local seafood.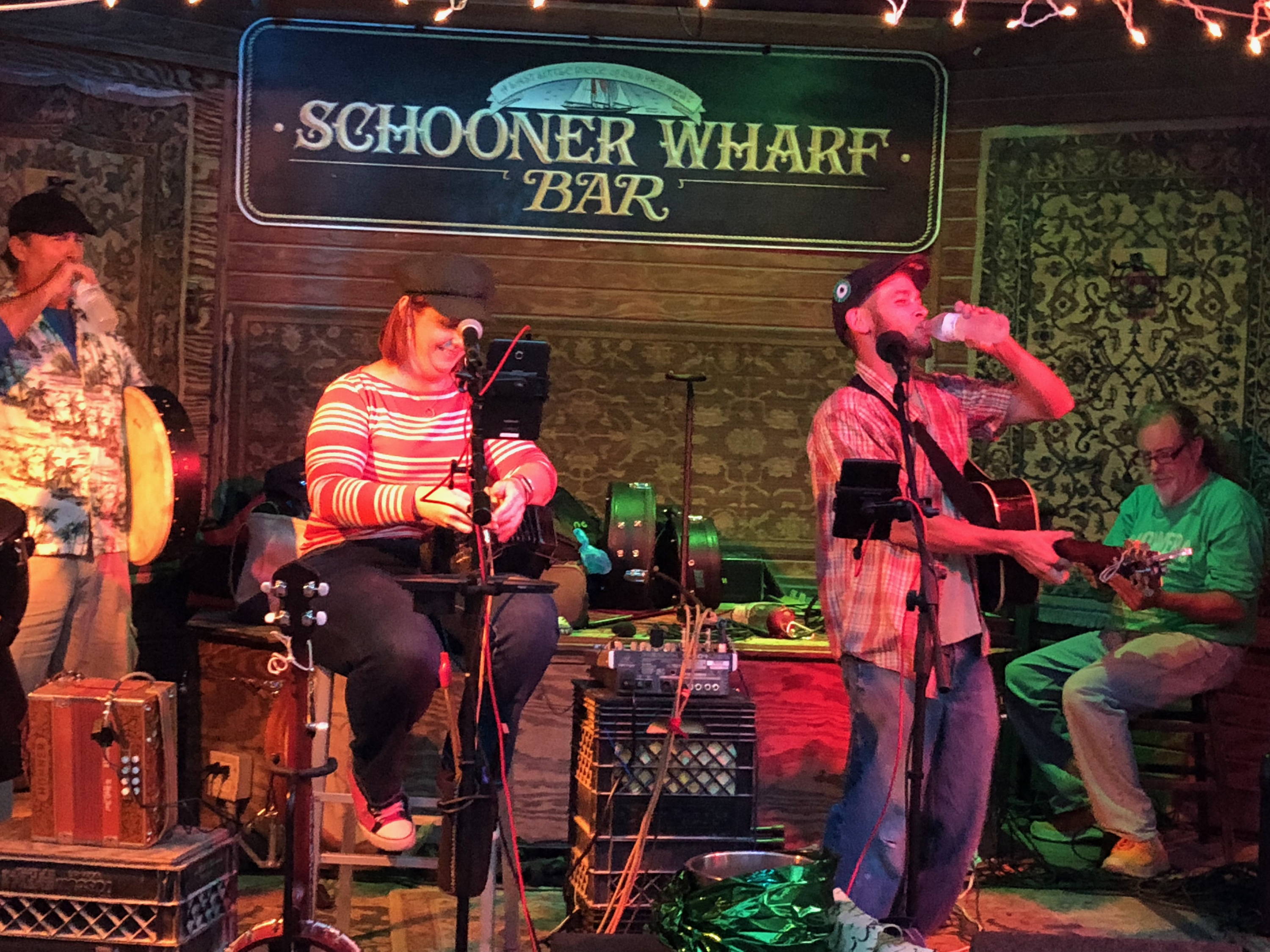 The American journalist Charles Kuralt once said of Schooner Wharf, "This must be the center of the universe". No argument here.
Scenic views, a terrific musical aura, excellent food, all in an upbeat waterfront atmosphere. Need we say more? Stop on in.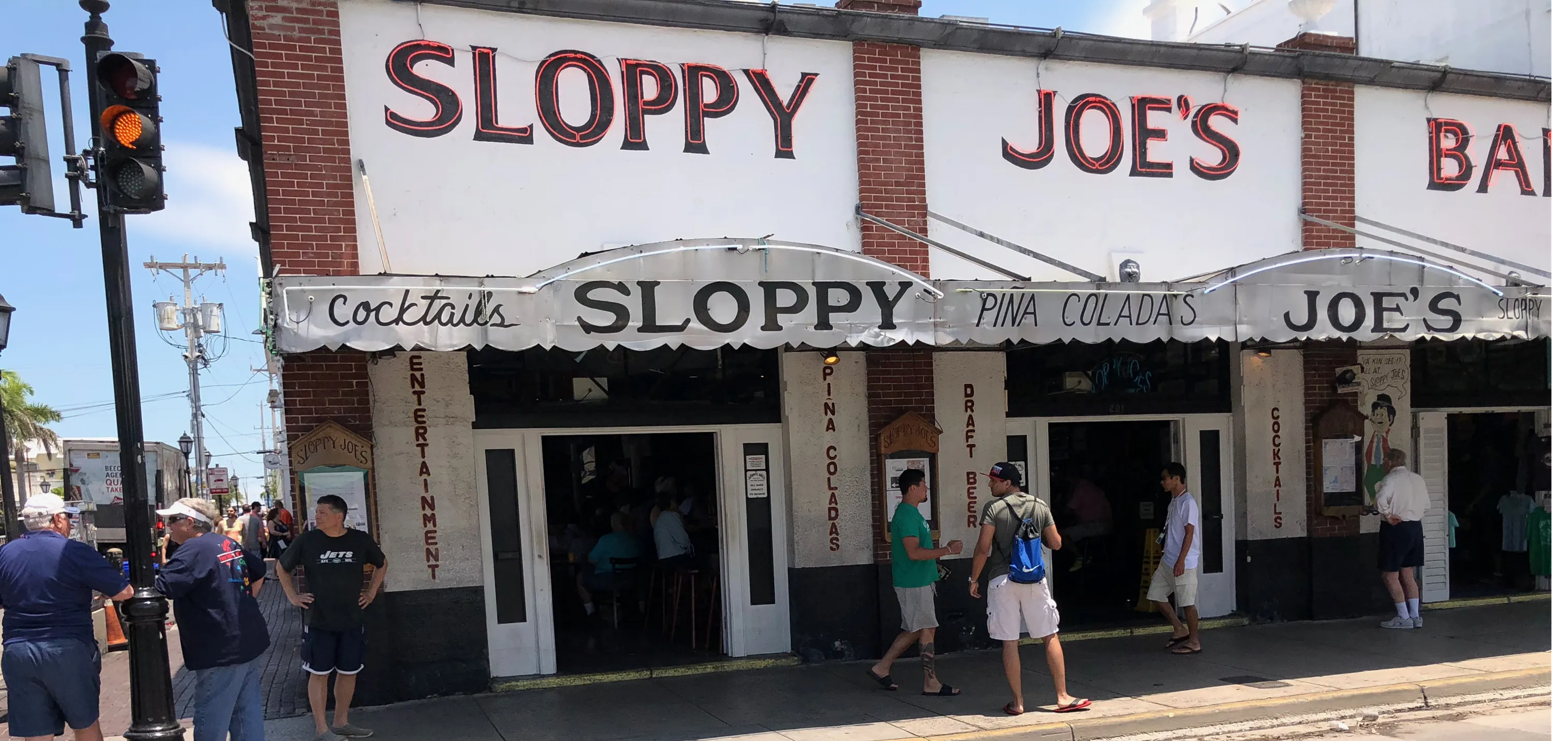 This storied bar is unequivocally one of Key West's most iconic establishments. Originally located at 438 Greene Street, Sloppy Joe's moved to its current location on the corner of Greene and Duval Street in 1937. Why? They jacked the rent up a dollar a month!!! (THE NERVE!!!) 
It was time to move to a more reasonable location. Truth be told, they moved immediately. The patrons picked up their drinks, carried their tables and chairs, and brought everything with them down the street. (We would have loved to have been there for that 'move'). In 2006, Sloppy Joe's was given the honor of being added to the National Register of Historic Places.
Sloppy Joe's opens at 9 am, (noon on Sundays), and the music starts at noon each day. Three different entertainers are served up daily, from noon until closing. Check out their impressive list of performers on the entertainment calendar.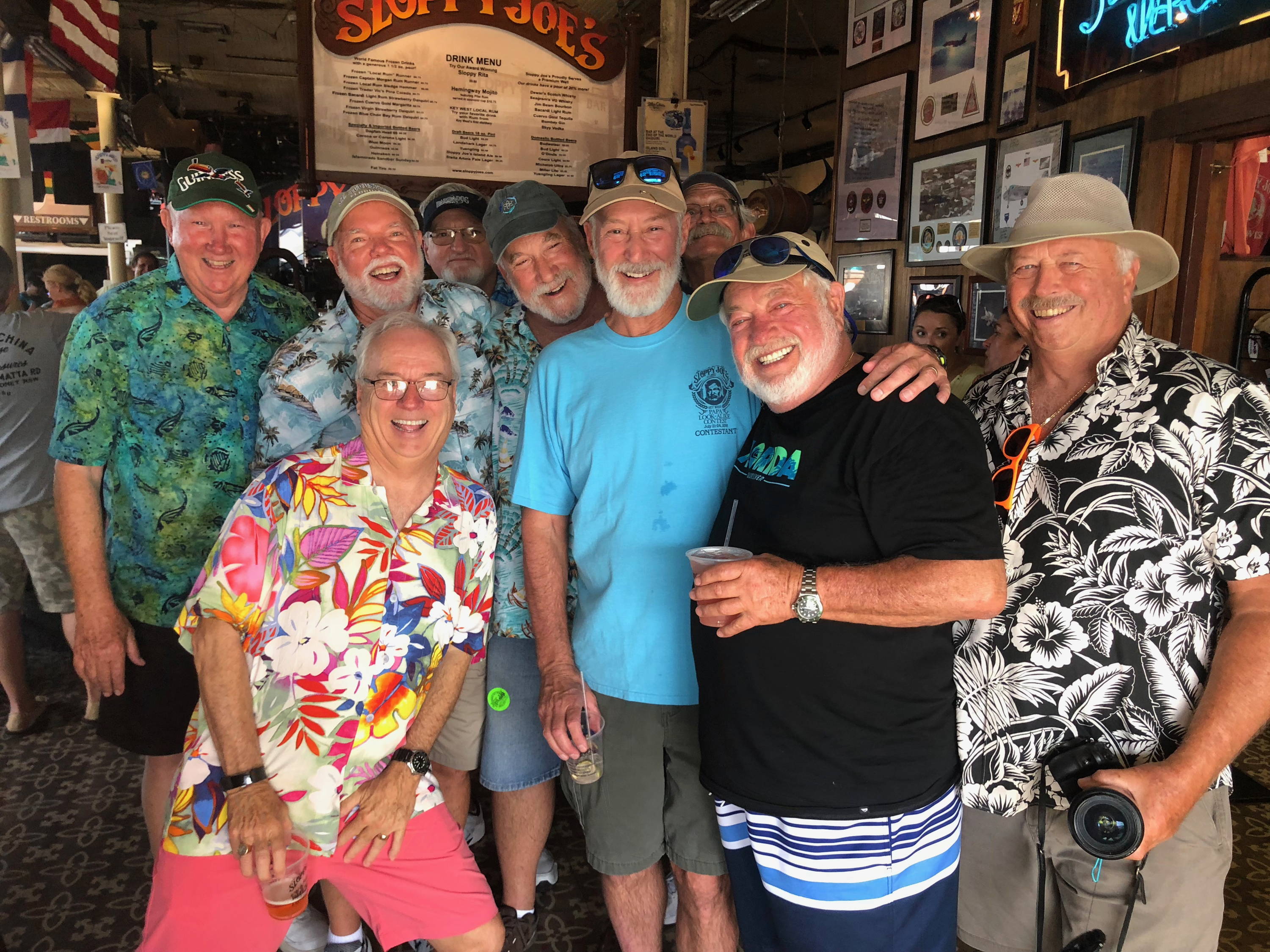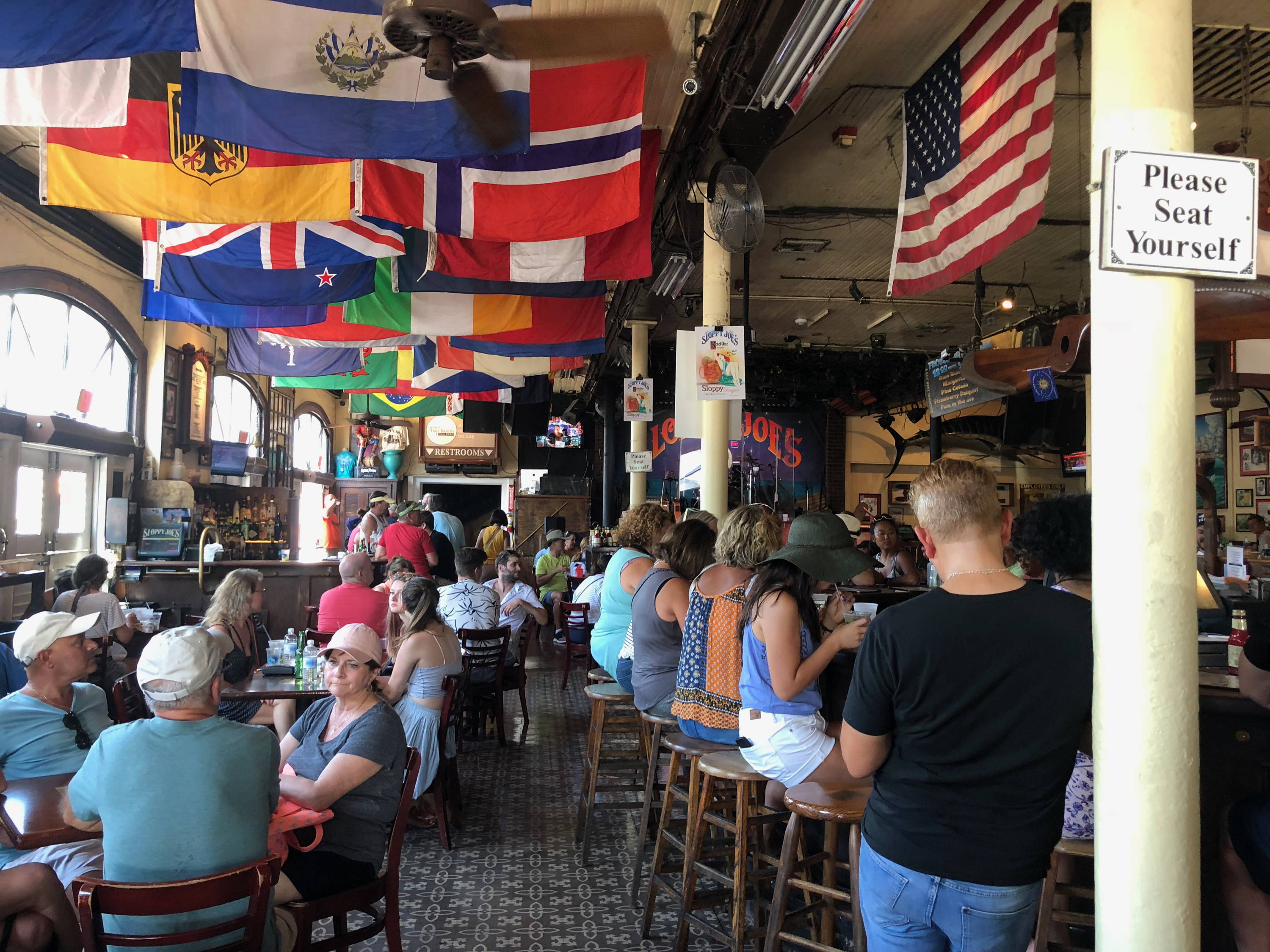 Sloppy Joe's is embedded in the local community and hosts a variety of events. During Songwriters weekend in May, you can catch some awesome up-and-coming talent on-stage.
Another fun event is the Papa Look-Alike Contest which is being held this year from July 21st through the 23rd. It is a tough competition, with over 100 competitors vying to see who looks the most like Ernest Hemingway and take home this prestigious honor.
The main bar area is where performers strut their stuff, but there is also a smaller more intimate section of the place called Joe's Tap Room. Here you can enjoy the full bar, and food menus, but also specialty crafted beers. This room can hold small parties of up to 22 people.
Sloppy Joe's is technically an 'inside' venue, but that is a bit of a misnomer. The sun and the sea breeze flow through the always-open doors, and windows providing an outdoor tropical feel all year round.
Always a cheerful, electric, happening place. Sloppy Joe's is absolutely a Key West Tradition.
Originally opened in 1976 in Ft. Walton Beach Florida, as a place where watermen and women could hang out after a day fishing or sailing. In 1988, Hog's Breath was established in Key West with the same concept in mind. Being the 'island nation' that Key West is, Hog's Breath has been a favorite ever since.  
Although the name may not have a tropical ring, it is absolutely one of the most popular local hotspots in Key West. Located at the corner of Front and Duval, Hog's Breath opens every day at 10 am and delivers music starting at noon. Three different musicians play straight through until closing time.
The music is set up in the mostly covered open-air section as you enter from Duval Street. It is an intimate spot to perform and the interaction between performers and attendees is unique.
By the stage are two bars, one larger, one smaller, with plenty of seats and tables to sit back and enjoy the music. With the intimacy of the place, you'll find that you are in conversations with locals and tourists from all over. In short, there is just an upbeat lively character here.
Hog's Breath also has another fully covered bar with tables if you would like to catch the music in a slightly, very slightly, laid-back atmosphere. Find out who is entertaining here at their music schedule.
Their menu is varied, providing options sure to please. Start off with the raw bar and enjoy fresh oysters, gulf shrimp, and when in season, stone crab claws. Since the name is Hog's Breath of course they have a wonderful pulled pork sandwich. Also, burgers, salads, and other house specialties.
They have great 'gear' too. In our travels up and down the East Coast, one of the t-shirts that we have seen most often from Key West is the Hog's Breath tee. When we say that we have been to Hog's Breath too, great stories are shared about the place.
Their slogan, "Hog's breath is better than no breath at all" is a take-off of the owner's grandmother who used to say, "bad breath is better than no breath at all". We agree because that means, we are still alive and breathing.
So, when you find yourself at the corner of Front and Duval, take a deep 'breath', come on in and enjoy the vibrant spirit.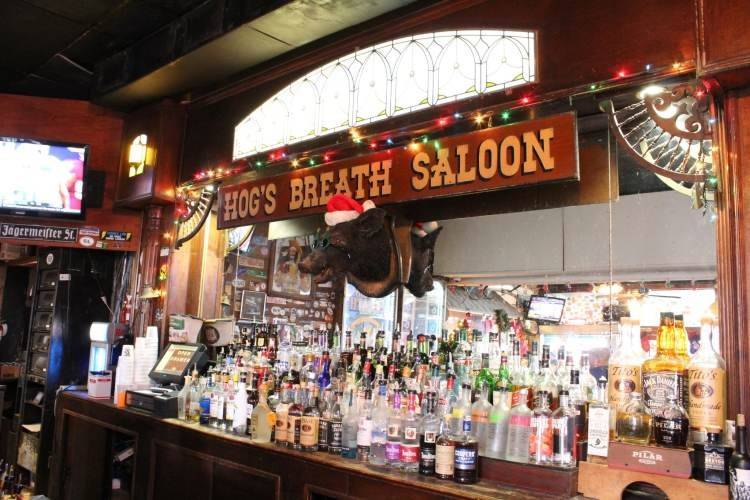 The truth is you can't go very far anywhere in Key West without coming across a fine local establishment that serves up quality music, fresh food, and drinks in a setting that has often been called nirvana. It is great fun just to explore these and other fine venues in what may be as close to a perfect setting there is. Enjoy the sea air, the weather, the beautiful scenery, and the talented musicians found across the Conch Republic.
CHEERS!!
---