Valentine's Cocktails
If you're on island time, or just visually putting yourself there for a few hours on Valentine's Day weekend, here's our "down n' dirty" approach to some quick "Happy House" liquid escapes. 
Okay, let's take a moment here to set the scene.
You're in the kitchen of your beach bungalow. The smell of the ocean gently drifting in through the open windows. Fresh seafood on the grill shortly, but not yet. The front porch is all cozy with Adirondack chairs, small side tables, and the sun slowly drifting down in the western sky.
That special someone is waiting on the porch for your Happy Hour creation. Let's not screw around with elaborate cocktails. This is about keeping it simple, yummy, and getting back to that porch. Here ya go...each less than one minute.
If you are in need of a quick island fix, but can't put your fingers on exactly what that would be...here's the answer.
Ingredients: Dark Rum, Orange Juice (fresh is best), maraschino cherries, ice.
Knocking it out: Take that tall glass in the cupboard, add ice, toss in dark rum (I usually go 1/3 of glass), add in orange juice, then toss a few maraschino cherries in...and some of the juice. Don't get all fancy, just open the maraschino cherry jar, tip it over the glass and let a few of the cherries and juice drizzle in. Quick stir and get back to the porch. 
BTW...lots of debate on the origins of the cosmo. Yep, we know ol' Carrie Bradshaw cannonballed these...but they still have an elegance to them. Keeping with our theme of eliminating the "foo-foo," here ya go. Yep, we're not chilling the martini glass.
Ingredients: Vodka, Orange Flavored Liqueur (Triple Sec, Cointreau, Grand Marnier), lime juice, cranberry juice, ice.
Knocking it out: Best to get a pitcher or very large glass and make two at once. Toss 3 to 4 ounces of vodka into that tall vessel. Add an equal amount of orange liqueur, lime, and cranberry juice...just rough it. Toss in the ice...better to crush it don't sweat that.
Seriously, the 2nd batch is going to go a lot faster so don't slow yourself down here. If you can, give that glass or pitcher a couple of hard shakes or just stir like heck to "5 Mississippi." Yep, use your finger to keep the ice in the vessel and pour your libation into that plastic tumbler. If some ice drifts in...so what. Get back to that porch and let Cosmo do its job.
We're taking a slight twist to this classic cocktail for Valentine's Day. Hemingway wanted this "puppy" strong, so you'll need to strengthen to your own taste. We want you to enjoy it, not lay you out.
Ingredients: White rum, maraschino liqueur, grapefruit juice, lime juice, and maraschino cherry juice (substitute for the simple syrup), ice.
Knocking it out: Okay, back to that pitcher or very large glass and make two at once. Toss 4 ounces of white rum, and an equal amount (4 ounces) of the following mixture: Maraschino liqueur, lime juice, grapefruit juice, and maraschino cherry juice (from the jar).
Yep, that's a 1 to 1 ratio so exercise caution. Since you are making two of these, use one glass to rough out the 4 oz of rum and the other for the mix. Then "eyeball" it when next to each other. Mix together. Toss in ice, and again...better if you crush it, but don't sweat it. Shake it and pour, leaving the ice behind. One expert note for Hemingway Daiquiri aficionados...the maraschino cherry juice substitutes for the simple syrup and gives it that gorgeous pink hue for Valentine's Day.
Remember, we're on the porch watching the sun close down the day. Our mission is to keep you on the porch, feet up, and enjoy an easy happy hour. We're going to give you an option in the event that the island bungalow is missing bitters, but will start with our local basics.
Ingredients: Bourbon or rye Whiskey, port wine, angostura bitters, orange bitters.
Knocking it out: You know the basic drill (although we prefer port to sweet vermouth) Ratio of 2 bourbon/rye to 1 port adding in 2 dashes of Angostura and 1 dash orange bitter.
What will you do if you've got the bourbon and port, but the bitters are nowhere to be found. It's a little different but will get you there. Hey, you're on an island so we roll easily on these things. 
Grab a couple of oranges and do a quick peel. 
Snag some cinnamon, cloves, and nutmeg from the shelf. Toss them into a shot glass with about a tablespoon of vodka. If you've got cardamon seed, add it in. Crush the spices in the vodka. Give it a good crush, not a wimpy crush. There ya go. 
The same ratio as the classic, 2 parts bourbon/rye, 1 part port wine...then add an orange peel and a half dozen drops of your "down n' dirty" bitter.
Not perfect, but it will be when you're on #2.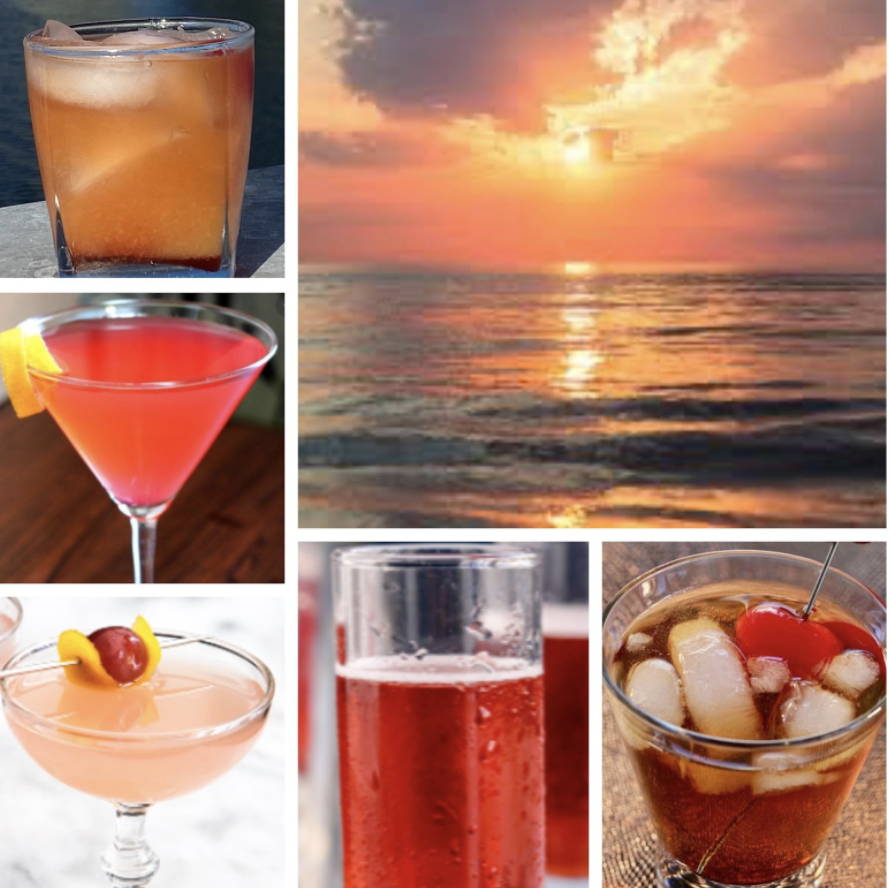 snappy apple & cinnamon sippers
Get a little sweat going with this easy, and delicious sipper. This is more like sipping a single malt scotch...slow and savor it. 
Ingredients: Fireball Whiskey, Apple Whiskey, and grenadine.
Knocking it out: This is so easy, you can do it earlier in the day and just pull from the freezer. Equal parts (2 oz of each) of the fireball and apple whiskey. Toss in about a tablespoon of grenadine. If you don't have apple whiskey...you know what fruit peel to toss in. Keep the ratio as reflected but go ahead and make up a batch early so they are to go. Pour, sip and enjoy.
Be responsible, keep it simple and enjoy the evening. See ya down here soon.
---